Of 541 European businesses polled on their intentions to expand in China this year, only 26 percent said they were "optimistic" about their companies being profitable in China, and only 56 percent said they had plans to expand in the Asian nation. The number marks a significant drop from the previous year, when 86 percent of European companies polled had intentions to expand in China.
The main reason for the diminishing investment in China is the "protracted Chinese economic slowdown," according to the European Union Chamber of Commerce in their 2015 Business Confidence Survey, released this week.
Pessimism about prospects in China have also caused significant business cutbacks in the area, particularly in the area of jobs. Thirty-nine percent of European Chamber member companies polled said they planned lay-offs this year, compared with 24 percent the year before. This was particularly the case in the energy industry.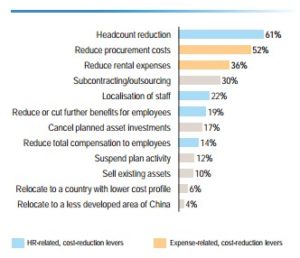 Behind the pessimism about China, The European Chamber stated, was the lack of regulatory framework in the nation. In particular, the lack of effective rule of law was seen as a serious obstacle to China's moving forward.
"The Chinese economy is facing a paradigm shift, making it necessary for the Chinese Government to discard its 'old toolbox' of high, fixed-asset investments and export-driven growth, which created unprecedented overcapacity levels and debt burden in many sectors," noted the report.
Despite the diminishing hope in Chinese business, the nation in 2015 is still a top investment area relative to the rest of the world.
"China's economy still has room for growth, and so more than half of European companies remain optimistic about their growth prospects, though this number has dropped 10 points year-on-year. Furthermore, nearly a quarter are pessimistic about their profitability outlook," stated the European Chamber survey.
BUSINESS CONFIDENCE SURVEY 2015 (download requires email signup)