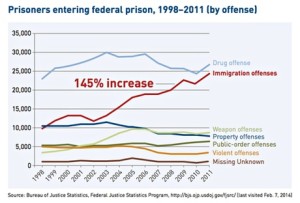 Between 1998 and 2012, immigration prisoners incarcerated in federal prisons increased 145 percent, according to the Bureau of Justice Statistics. Thirteen US Criminal Alien Requirement (CAR) prisons managed by three private prison corporations house all of America's 25,000 prisoners convicted of living in the US without proper documentation.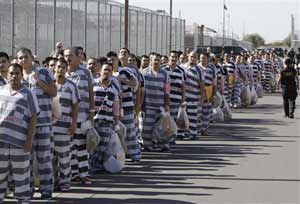 The three corporations, Corrections Corporation of America (CCA), the GEO Group, and Management and Training Corporation (MTC), are contracted by the Federal Bureau of Prisons.
The Customs and Border Patrol (CBP), formed in 2003, has over 45,000 agents and receives more money than all other federal agencies combined. The CBP is a department of the US Department of Homeland Security (DHS) and is the largest law enforecment agency in the US. The primary task of the CBP is preventing terrorists and terrorist weapons from entering the US. The Customs and Border Patrol feeds the CARs.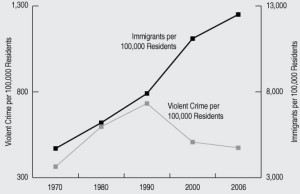 In 2012, the three corporations took in a total of $4 billion in revenue. GEO and CCA executives made around $19 million that year.
Illegal immigrants are pursued by the DHS. Since 2009, illegal immigrants have been placed in US prisons in numbers greater than convicts for "violent, weapons and property offenses combined," according to an ACLU report.
The ACLU has blamed a DHS-Department of Justice (DOJ) program, Operation Streamline, for much of what it deems human rights abuse of illegal migrants. Begun in 2005, Operation Streamline mandated that in addition to deporting illegal migrants, the US government would prosecute them.
According to a CCA executive who was quoted by the ACLU, "Let me just make a brief comment on Operation Streamline…. Before this initiative was put in place, only a small percentage of [il]legal persons crossing the U.S.-Mexico border were prosecuted….We are now experiencing significant numbers to further be in place in custody as a result of Operation Streamline…We believe that the Federal Bureau of Prisons…will continue to provide a meaningful opportunity for the industry for the foreseeable future."
By Day Blakely Donaldson