"An insult to Islam" was the charge. Prominent writer Nahed Hattar, a Jordanian Christian, was walking to the court where he was on trial for contempt of religion when he was approached by a man and shot several times in the head.
The shooter was chased down and turned over to the authorities.
The subject of the charge was a cartoon. Hattar had shared the cartoon (the cartoon was by an anonymous hand) on social media.
In the past, Hattar had also popped up on the Jordanian legal radar when he allegedly shared a social media post critical of the king of Jordan.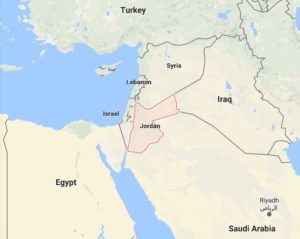 Hattar commented on the cartoon charge, saying that he intended only to mock ISIS and not Islam.
The cartoon depicts a lavish tent with a bearded Arab — called simply "jihadist" — flanked by two women in bed, surrounded by food and drink, with a large white bearded God peeking in the tent flap. God is asking if the jihadist "needs anything," and the jihadist asks God to serve him wine and for Gabriel to serve him cashews, as well as a door so that God will knock next time.
His first lawyer in the trial had resigned claiming he could not defend the cartoon, which the lawyer considered offensive, but said the charge should be dismissed anyway.
In the country, many Jordanians consider the trial and shooting to be indicative that radical Islam and tolerance for it by the government has gone too far.