YANGON, Myanmar – Downtown Yangon, the pro-military mob attacked local people and media, with 20 people being wounded this morning, according to a local source.
The mob destroyed some cars stuck in traffic as well.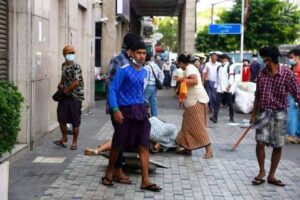 Some protesters have claimed they received money from the military to vandalize in particular areas.
Recently, A group of people including some monks rallied to stand with the military after the coup. They are members of the Union Solidarity and Development Party.
Under international pressure, law enforcement forces constricted the violence as much as they could, especially in big cities such as Yangon and Mandalay. The military has also lobbied ASEAN countries to legitimatize its administration.
By Htay Win
Feature image credit Het Arkar