YANGON, Myanmar – Unidentified people threw a burning torch into National League for Democracy headquarters in Bahan township at 4am Friday.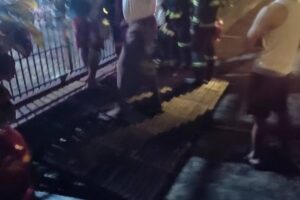 Neighbors put out the flames using buckets of water and fire extinguishers after finding there was no water available for nearby hydrants. After they had put out the fire, the local fire service arrived, which also did not bring water with them.
"The strange thing was that the water was cut off," one bystander told Myanmar Now. "There was no water supply at all around the office. There was no water from the hydrants when we tried to put out the fire. We had to use buckets of water. It's lucky that there were fire extinguishers ready."
There was some structural damage as well as damage to office furniture.
NLD representatives said they would report the arson to the police.
The NLD Party was formed after the 1988 democratic revolution. Standing as an opposition party, the NLD party entered the parliamentary by-election in 2012.
By Htay Win
Photo credit Myanmar now