Born in Beirut in 1952, Mona Hatoum is of Palestinian descent and British nationality. This latest exhibition of an unprecedented scale has gathered over 100 works of this leading contemporary artist in various media, ranging from performance, video, photography, works on paper to installation and sculpture. Some of the must-sees are highlighted for you here to spend more time experiencing and understanding them.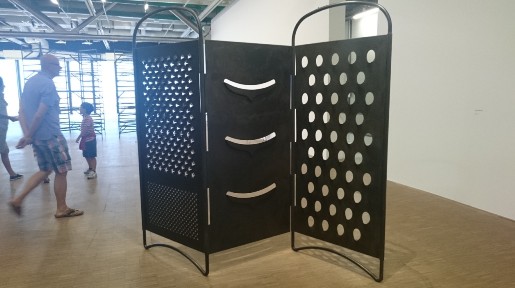 Grater Divide, 2002
Hatoum's artistic practice often features modifying or scaling up familiar objects from daily life into threatening or hostile sculptures up to human proportions. This cold and solid room divider was based on a foldout cheese grater and now aggressively blocking the view of visitor across the exhibition room. If standing close enough, one may even have the feeling of going to be peeled.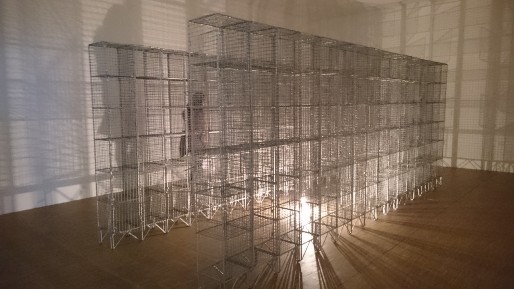 Light Sentence, 1992
This installation made up of piling square wire mesh lockers gives an illustration of animal cages. It also reminds of stacked and uniform architecture not unfamiliar to large cities. Thanks to up and down movements of the simple household lightbulb hanging in the centre, the walls of the dedicated exhibition room was showered with enchanting shadow patterns while the moving shadows give visitors swaying feelings as though they are on a boat sailing in the sea.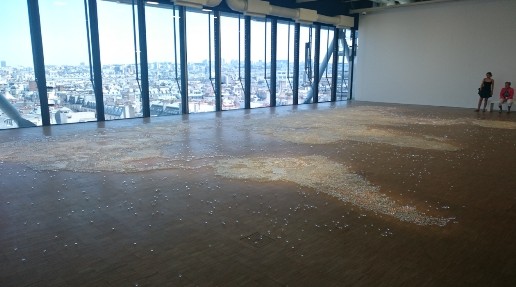 Map (clear), 2014
Definitely no one would have missed this large world map consist of numerous glass marbles lying on the floor in front of the view of Paris city. All the marbles of this amazing piece are not fixed to the floor, infusing a sense of instability and vulnerability as movements of viewers may possibly shift parts of it or even destroy it. It also creates an unwelcoming surface to pass or walk on. Map is also a recurrent theme of Hatoum's works, quite some other works with this theme can be found in the exhibition too.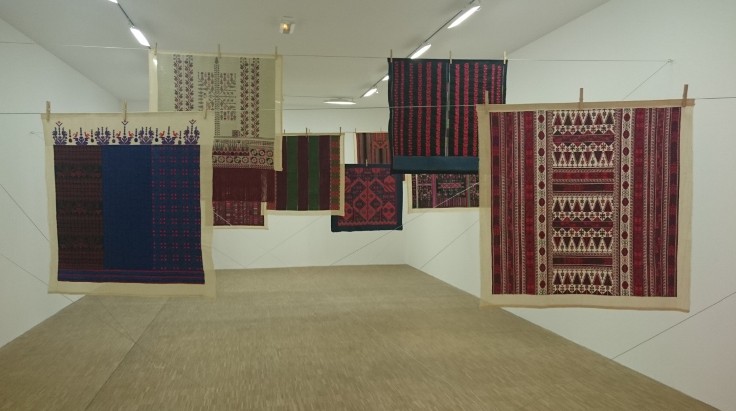 Twelve Windows, 2012
This beautiful installation of twelve pieces of Palestinian embroidery hanging in a room by steel cables may not be the most attention-seeking. However, its subtle beauty originates from the artist's determination to preserve the traditional skill of Palestinian needlework which is endangered by exile and dispersion of Palestinians all over the region. Each 'window' symbolises a key region of Palestine.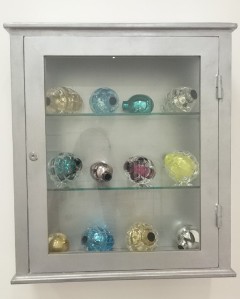 Natura Morta (Medical Cabinet), 2012
Those seemingly appealing objects exhibited in a medical cabinet are actually in the forms of hand grenades in colourful glass. They are presented as precious objects to be aesthetically appreciated by viewers. However, they are marked with malevolent undertone at the same time. Thinking of the series of Medicine Cabinets by Damien Hirst, this is slightly more visually alluring and underscored by stronger tensions.
There are absolutely much more to see and experience at this exhibition. The wide range of works actually enables us to understand the significance of the artist's works in today's art world and to appreciate the diversity and versatility of Mona Hatoum's artistic practice.
By Rickovia Leung