South Sudan's Minister of Foreign Affairs Barnaba Marial Benjamin spoke today on his return from meeting with the United Nations Security Council (UNSC) and East African trade bloc IGAD in Nairobi, Kenya, and stated that the UNSC and IGAD should concentrate on establishing peace in South Sudan before attempting to address human rights grievances.
He also said that the UNSC and IGAD should not implement sanctions in their attempts to stop South Sudan's civil war.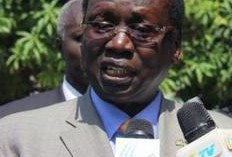 "What we need from UN Security Council andIGAD countries is that they support the peace process. South Sudan doesn't need sanctions," said Marial.
"The people of South Sudan can live in peace. Then the accountability issue with regards to those who violated the human [rights] will come later."
Marial stated the South Sudan was ready to form a transitional government and work toward peace and reconciliation.
"South Sudan has put its point very clearly both to IGAD as well Security Council that we are for peace and that we are committed to finding peace as soon as possible," Marial said.
"The President of the Republic of South Sudan is ready for an all-inclusive transitional government that will bring all the people of South Sudan together and at the same time to make sure that reconciliation process among the people of south Sudan is enhanced."
The foreign affairs minister made the comments on his return from Nairobi, where he met with the UNSC and IGAD council ministers.
Earlier this week, a UNSC delegation to Juba, the capital of South Sudan, had expressed disappointment at the failure of both parties to form a transitional government within a sixty day time frame.
IGAD's representatives also recommended tougher retribution for parties that finder peace talks in Addis Ababa.
By Day Blakely Donaldson