Mohamed Mahmoud street, one of the most iconic locations of modern Egyptian history, famous for its walls graffitied by artists who gave color to the Revolution of 2011, is now being demolishing as part of a renovation project.
Online news website Ahram Online reported that the order for demolishing the walls of The American University in Cairo, where the most famous graffiti is located, came from the Cairo Governorate. The instructions also include tearing down the university's science building.
The indignation of the the Egyptian youth was immediate. Many consider Mohamed Mahmoud Street's graffiti to be a monument to the 2011 revolution, in which President Hosni Mubarak was overthrown after almost 30 years in power.
A meme has been circulating on social media showing President Abdel-Fattah El-Sisi peeking behind the wall that is now being destroyed, raising questions about the leader's responsibility for the demolition of the iconic revolutionary locale, right next to Tahrir Square.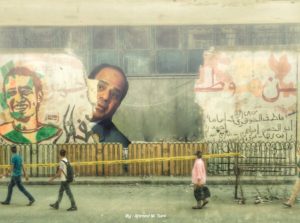 Image credit: Ahmed M. Tuni
A law that recently passed in Egypt dictates that any anti-government graffiti is now considered a criminal act. Many Egyptians have voiced opposition to the legislation, saying the law hits strongly against freedom of speech in the country.
With the destruction of the revolutionary graffiti wall, some fear that an era will sadly come to an end in Mohamed Mahmoud Street and the symbolic center of the Egyptian Revolution.
Text and photography by David A Córdova M.
Mohamed Mahmoud Street Graffiti