YANGON, Myanmar – The remote court hearing of Aung San Suu Kyi case was postponed until April 1 due to the inconvenience posed by the current condition of internet service in the country.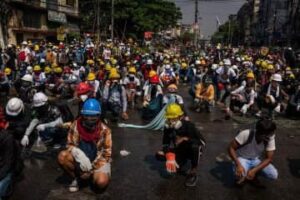 She was arrested after the Feb. 1 coup for illegal export and import.
Since early February, anti-coup protesters have taken streets and of several cities in Myanmar and there have been casualties when the protesters were met by security forces. At present, the total death toll across the country has reached 270, according to a local source.
In 2012, the Myanmar military convinced Suu Kyi to participate in the parliamentary by-election even though she initially refused to enter the election under the 2008 constitution drawn up by the military.
By Htay Win
Photo credit Tazar San