YANGON, Myanmar – The UEC revoked election results when it met with political parties in Naypyiday Feb. 26. The current election commission was established by the military after it took power in early February, replacing the previous election commission which had validated the presidency of Aung San Suu Kyi.
Among 91 political parties in Myanmar, 53 political parties attended the meeting. "We have to abolish the 2020 election result because of election fraud," the chairman of the UEC explained.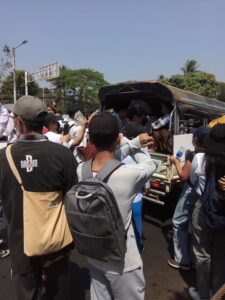 In the 2020 election, the National League for Democracy party (NLD) won by a landslide, but the military complained that the NLD had committed fraud.
Under the leadership of Aung San Suu Kyi, the NLD was the most popular and famous political party in mainland Myanmar.
By Htay Win
Featured image photo credit: Wutyi Ma