YANGON, Myanmar – University students in Yangon rallied near the Chinese embassy Feb. 27 and called for the Chinese government not to cooperate with the Myanmar military.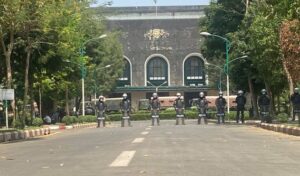 Protesters in Myanmar suspect that China is transporting hardware devices to build a firewall for controlling the internet in Myanmar. When the protesters asked the question, the embassy told them that China was sending SEAFOOD to Myanmar. "SEAFOOD" is defines as Software Engineering Approaches for Offshore and Outsourced Development.
There are three main telecommunication companies in Myanmar: MPT, Ooredo and Telenor have provided faster internet connections since 2014.
At present, there is an internet blackout between 1am to 9am daily throughout Myanmar, and when it is available, internet connections are slower than before the military grabbed power from the democratically-elected government.
By Htay Win
Featured image credit: Sit Htet Aung