DURBAN, South Africa – South African former Olympic champion Caster Semenya is set to appeal at the ECHR and South Africans are rallying behind her.
Semenya wants to overturn a World Athletics' regulation dealing with hormone use. She is expected to file the papers in March.
The 800m world champion is still unable to compete professionally, as her bid to overturn the drug-hormone rule was so-far unsuccessful. She was not included in SA's provisional squad for the upcoming Tokyo Olympics which is scheduled to get underway July 23.
News of her appeal was revealed at the portfolio committee meeting of the Department of Sports, Arts and Culture where SA's preparedness for the Tokyo Olympics was discussed.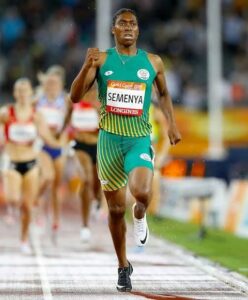 In a statement, Athletics South Africa President, Aleck Skosana, said Ms Semenya has not been included in South Africa's provisional Olympic squad.
The Chairperson of the committee, Beauty Dlulane said most countries would like to see Ms Semenya participate in the Games, an aspiration frustrated by "rules and guidelines."
"We are concerned that this has affected Caster's preparation. This issue of rules unjustly disadvantages Caster and denies her rights to participation and qualification, and the committee's view is that those rules are unfair," she said.
South Africans have taken to social media and voiced their opinions on the Semenya matter.
"Caster Semenya, all eyes on you. You have immense people of interest externally support from South Africa. Bless her," wrote one interested citizen, while another wrote, "I'm proud of her, she can't give up just like that. She is doing for the upcoming generations too."
Another social media user wrote, commenting on the social aspect of the issue, "So this is the level of civilization we are currently at. Someone has to defend their sexuality because they are genetically gifted. If sports is against genetical gifts tall people like Bolt should probably not be allowed to compete. That guy is a beast and not fair to other normal men."
SA remains hopeful, as Athletics South Africa told the committee that it has received support from Sweden and looks forward Ms Semenya winning her appeal.
By Zakithi Dlamini