Ramadan, Islam's holy month, regularly sees a significant increase in religiously-motivated killing, but this year's was the most deadly of the century, according to The Religion of Peace, a terrorism watch group that keeps records of killings in the name of Islam.
"This year's Ramadan was the highest since I've been keeping track," Glen Roberts, editor of TROP, told The Speaker. "Normally, Islam's holiest month sees about 30 percent more terror deaths over a typical month."
Read more: Islamic terrorists have committed 25,000 separate violent acts worldwide that resulted in hundreds of thousands of deaths in last 15 years
"Nearly 3,000 people were shot, beheaded, blown up, drowned, burned or hacked to death in the name of Islam," stated Roberts in the summary on TROP's webpage, noting that no deaths in the name of other religions took place during that time.
According to TROP's daily records, over 26,000 attacks have been carried out in the name of Islam since the 9-11 attack on the World Trade Center in New York — which is when TROP began it's documentation. Five such attacks which result in at least one death take place every day around the world, on average.
For the period roughly corresponding with Ramadan, which lasts 29-30 days based on visual sightings of the crescent moon, 314 terror attacks took place globally, including 63 suicide bombings, which resulted in 2,988 deaths and 3,696 wounded.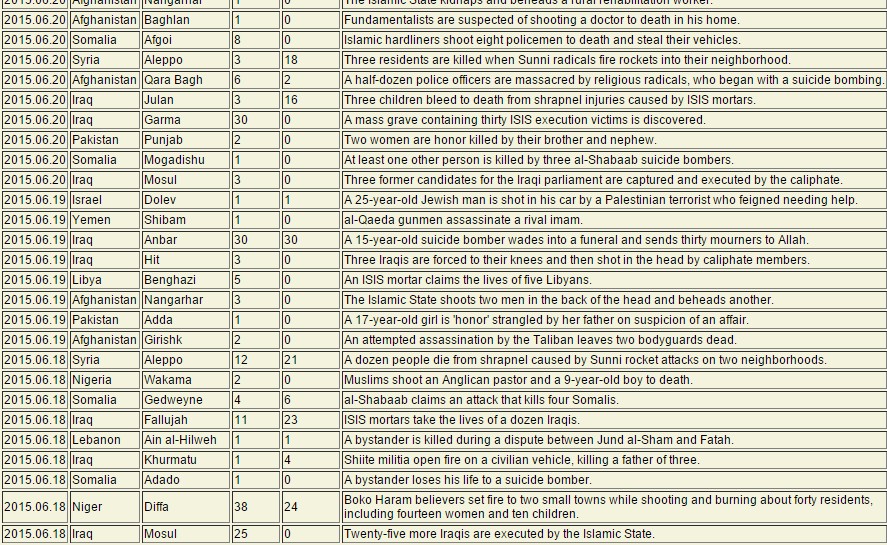 However, as Roberts pointed out, the actual numbers are higher than reported because TROP relies on news reports for figures. There is not a news report for every attack, Roberts told us, and the reports are not followed up by deaths that occur days or longer after the initial incident.
The figures include all killings motivated by a sentiment of religious duty, and so include killings by the Islamic State. "Any killing that I come across by the Islamic State is included in the count. I'm sure that there's quite a bit that I miss," commented Roberts.
The 314 attacks that resulted in death between June 18 and July 16 took place in Iraq, Niger, Somalia, Lebanon, Nigeria, Afghanistan, Pakistan, Libya, Yemen, the Democratic Republic of the Congo, Uganda, Egypt, Mali, Chad, Israel, Kuwait, Saudi Arabia, Tunisia, Kenya, India, Phillipines, Thailand, China, France, and Austria.