The World Press Photo exhibition tour that showcases award-winning photographs is the most popular traveling photo event in the world.
Each year, over three and a half million people worldwide go see the images of this prestigious annual press photography contest. The 2016 touring exhibition featuring the winners and finalists will open in Amsterdam on 16 April. The photos will then be exhibited in more than a hundred cities in 45 countries.
Since its creation in 1955, World Press Photo rewarded many impactful images – the mutilated face of a Rwandan man at a Red Cross hospital, a naked girl running after a napalm attack in Vietnam or a Buddhist monk setting himself on fire – that have established styles in visual storytelling or have become iconic.
Through this annual contest, the World Press Photo foundation strives "to inspire, engage, educate, and support both visual journalists and their global audience" while promoting and securing freedom of information and freedom of speech.
Centered as much on the aesthetic and the technical as on the journalistic aspects of the images, the selected images present the reality of current issues and expose the beauty of life in 8 categories: Contemporary Issues, Daily Life, General News, Long-Term Projects, Nature, People, Sports, and Spot News.
This year, 5,775 photographers from 128 countries submitted a total of 82,951 images for judging. At the end of the selection, 41 photographers from 21 countries were awarded by the jury. The refugee crisis in Europe, the war in Syria and the Paris attack were among the entries.
The 2016 award ceremony will be held in Amsterdam on 22 and 23 April.
2016 : Syrian refugees for the World Press Photo of the year
The jury of the 59th annual World Press Photo Contest selected Hope for a New Life – a photography by Australian photographer Warren Richardson as the World Press Photo of the Year 2015.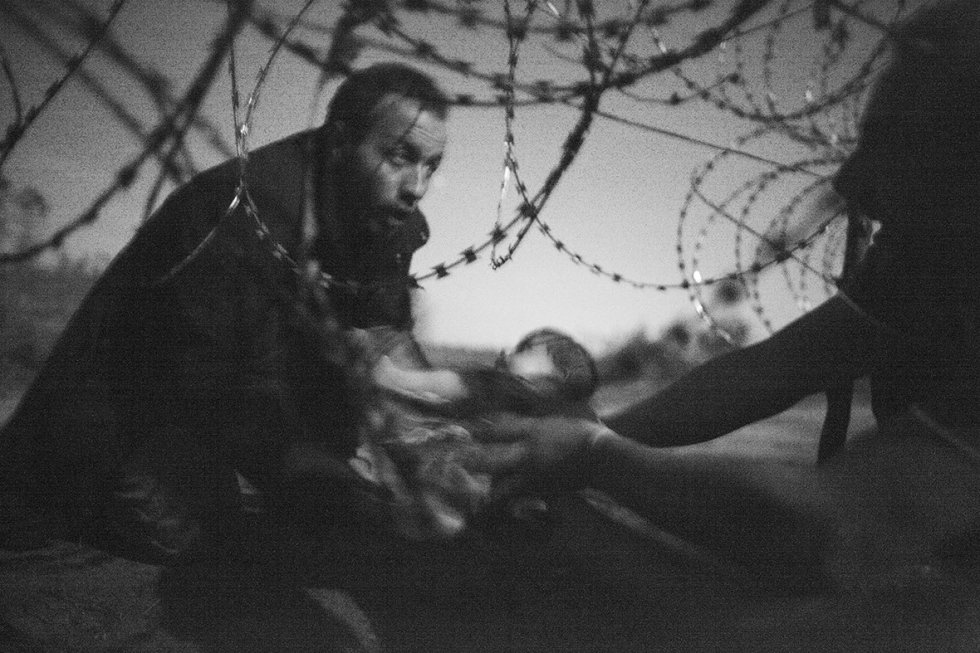 Hope for a New Life shows refugees about to cross the border from Serbia into Hungary. Taken at night on 28 August 2015, this man and child were part of a movement of people trying to cross into Hungary before a secure fence on the border was completed.
Richardson brought additional information about his telling image: "I camped with the refugees for five days on the border. A group of about 200 people arrived, and they moved under the trees along the fence line. They sent women and children, then fathers and elderly men first. I must have been with this crew for about five hours and we played cat and mouse with the police the whole night. I was exhausted by the time I took the picture. It was around three o'clock in the morning and you can't use a flash while the police are trying to find these people, because I would just give them away. So I had to use the moonlight alone."
In a press release from World Press Photo, jury chair and photo director of Agence France-Presse Francis Kohn said about the image: "Early on we looked at this photo and we knew it was an important one. It had such power because of its simplicity, especially the symbolism of the barbed wire. We thought it had almost everything in there to give a strong visual of what's happening with the refugees."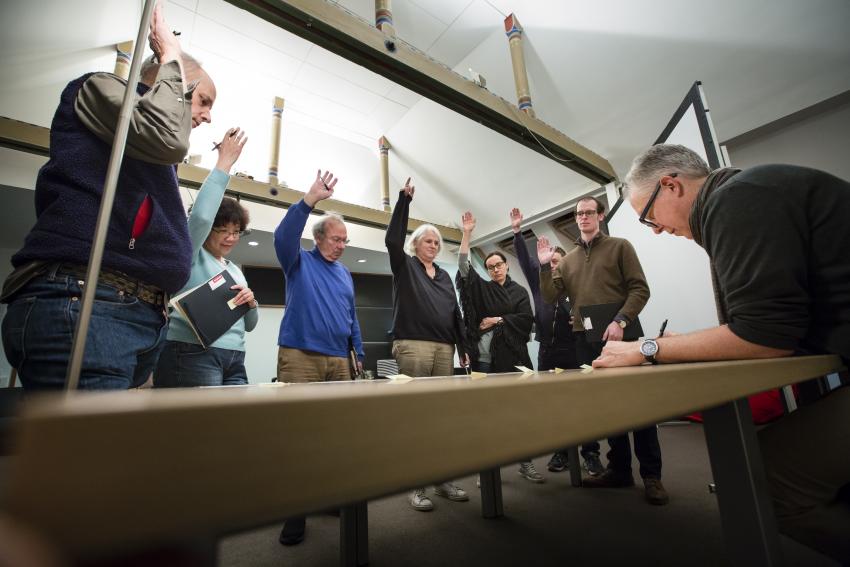 General News, 1st prize stories : Sergey Ponomarev
Reporting Europe's Refugee Crisis.
Refugees arrive by boat on the Greek island of Lesbos.
November 16, 2015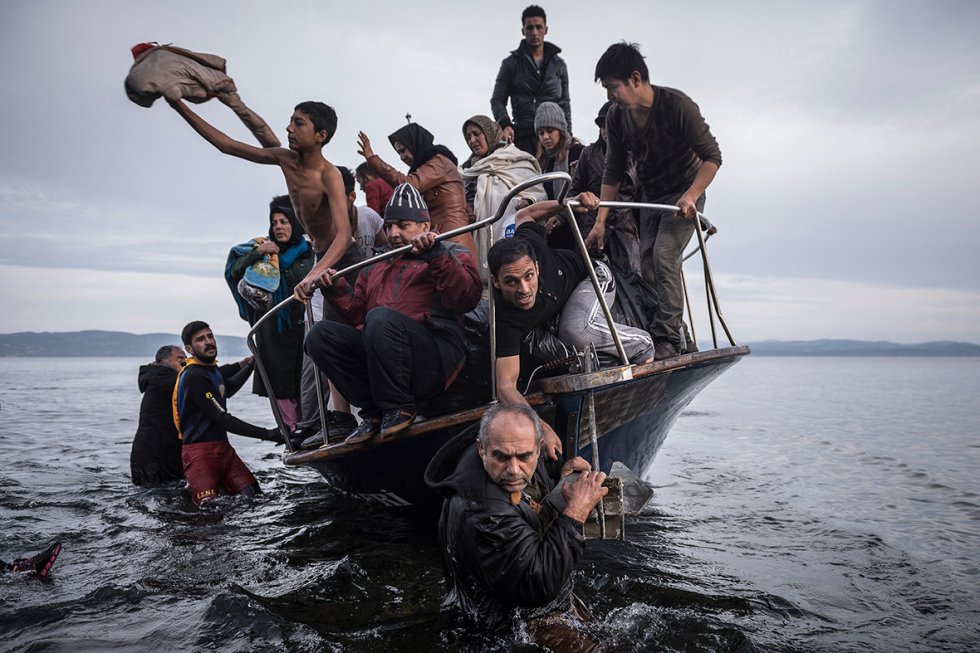 A man struggles to board a train headed to the Croatian capital Zagreb, in Tovarnik, a town near the border with Serbia.
September 18, 2015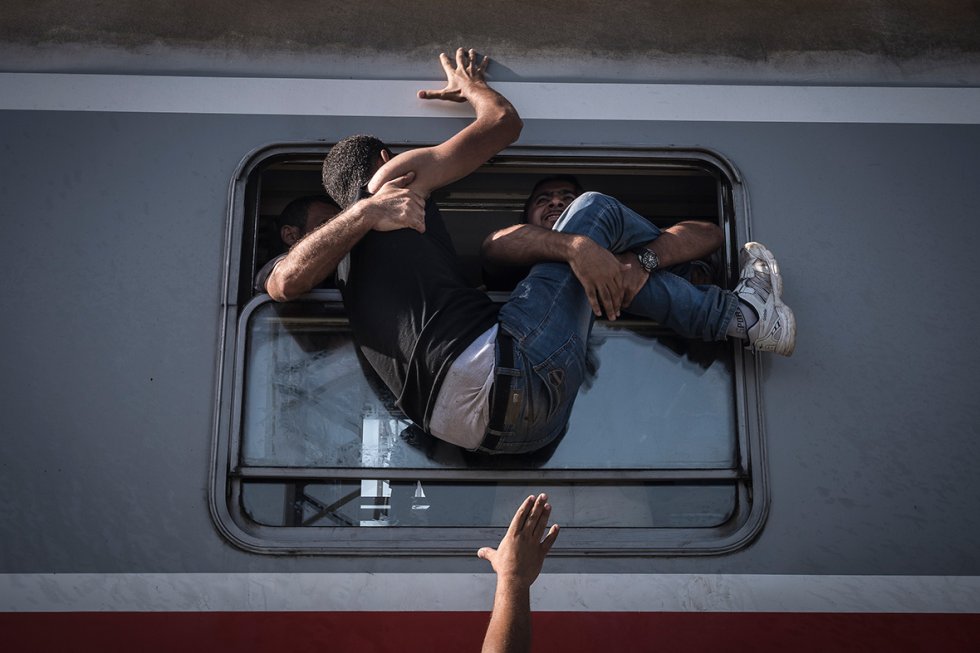 Spot News, third prize stories : Bulent Kilic
Broken Border.
People cross into Turkey through a broken fence, near the official border crossing at Akçakale. Akçakale and the Syrian town of Tel Abyad are directly adjacent to each other, with the border running through the middle.
June 14, 2015.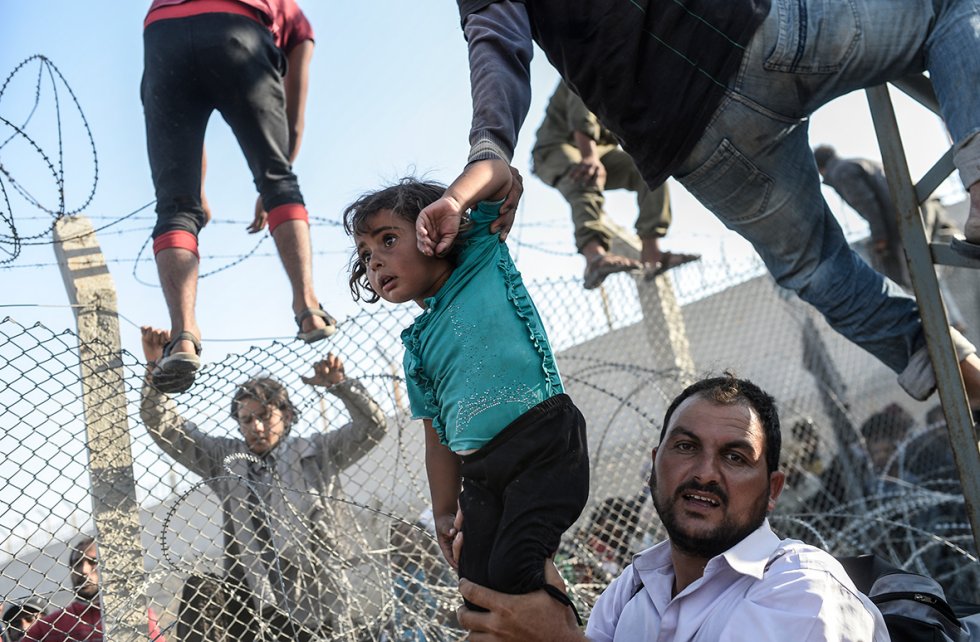 Refugees pass through broken border fences and trenches to enter Turkish territory.
June 14, 2015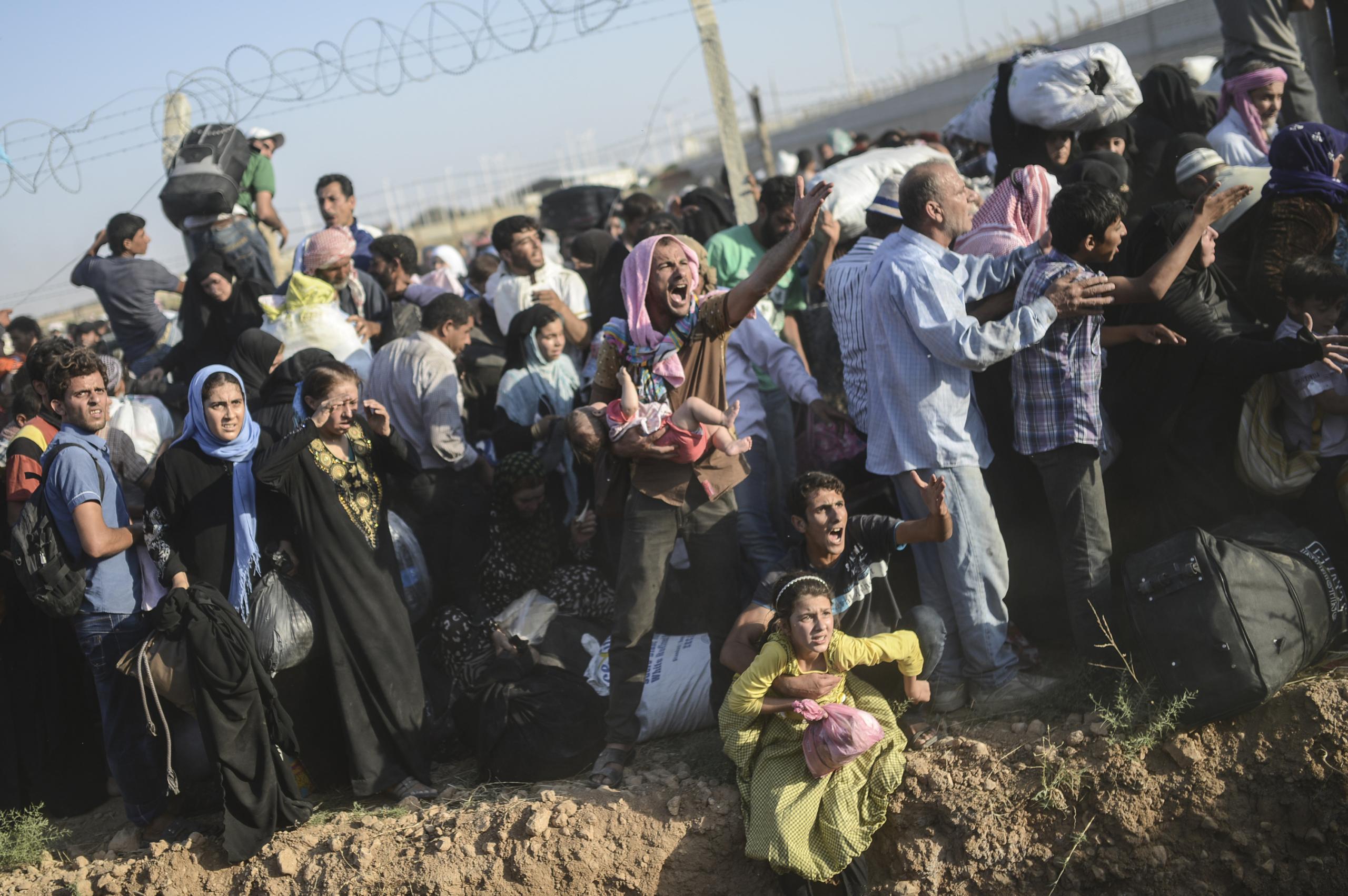 Contemporary Issues, 1st prize singles : Zhang Lei
Haze in China.
Tianjin, an industrial and logistics hub in northeastern China shrouded in haze.
December 10, 2015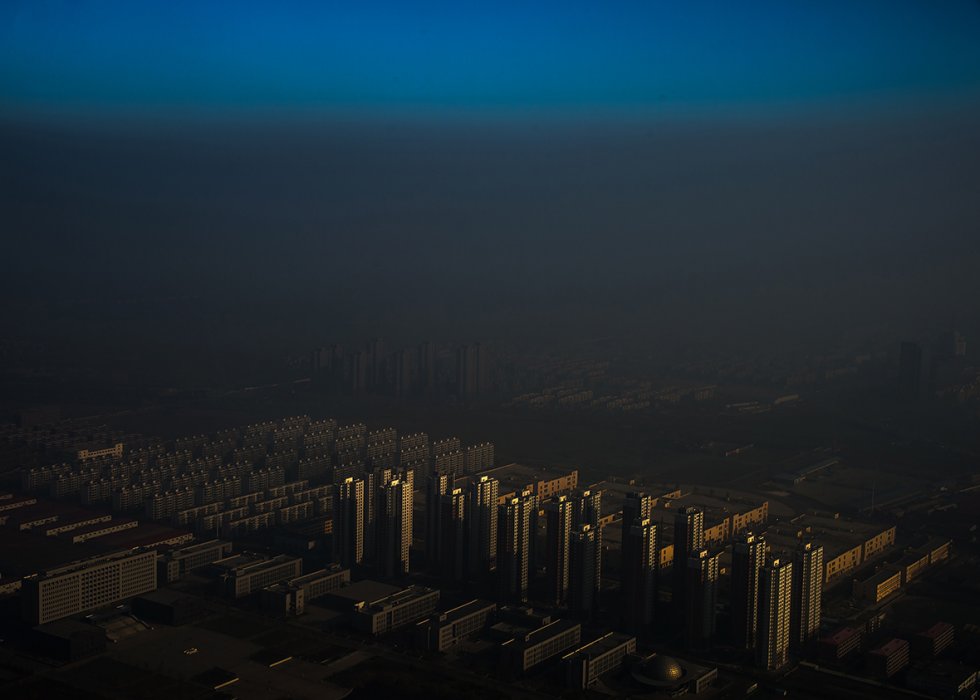 Contemporary Issues, 1st prize stories : Màrio Cruz
Talibes, Modern-day Slaves.
Series portraying the plight of Talibes, boys who live at Islamic schools known as Daaras in Senegal. Abdoulaye, 15, is a talibe imprisoned in a room with security bars to keep him from running away.
May 18, 2015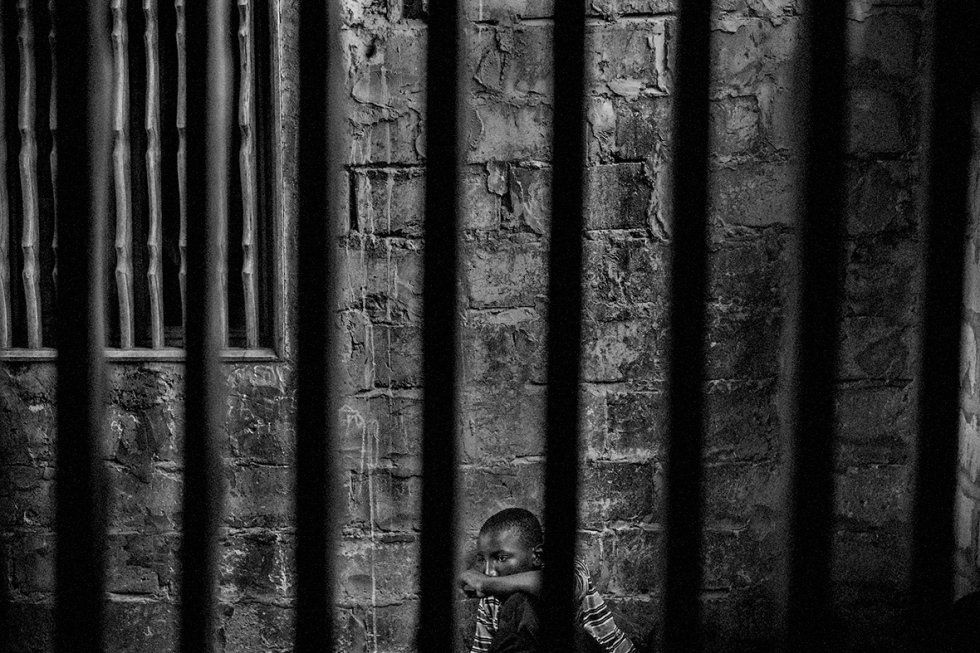 Daily Life, 1st prize singles : Kevin Frayer
China's Coal Addiction.
Chinese men push a tricycle through a neighborhood next to a coal-fired power plant in northern Shanxi province. A heavy dependence on burning coal for energy has made China the source of nearly a third of the world's CO2 emissions.
November 26, 2015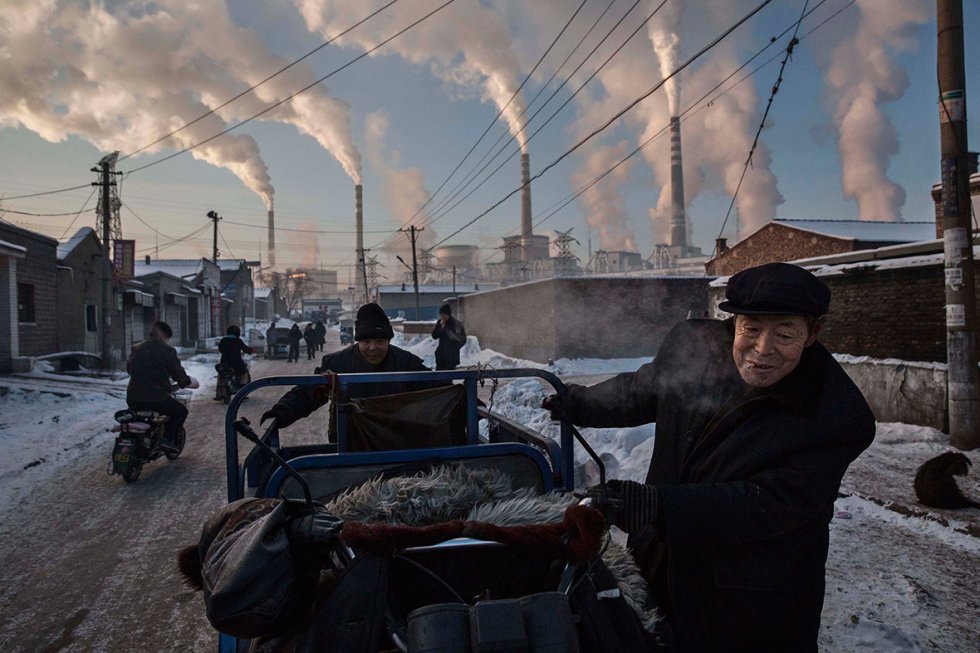 General News, 1st prize singles : Mauricio Lima
IS Fighter Treated at Kurdish Hospital.
Doctor rubs ointment on the burns of Jacob, a 16-year-old fighter from the group calling itself Islamic State (IS) at a hospital in Al-Hasaka, northern Syria.
August 1, 2015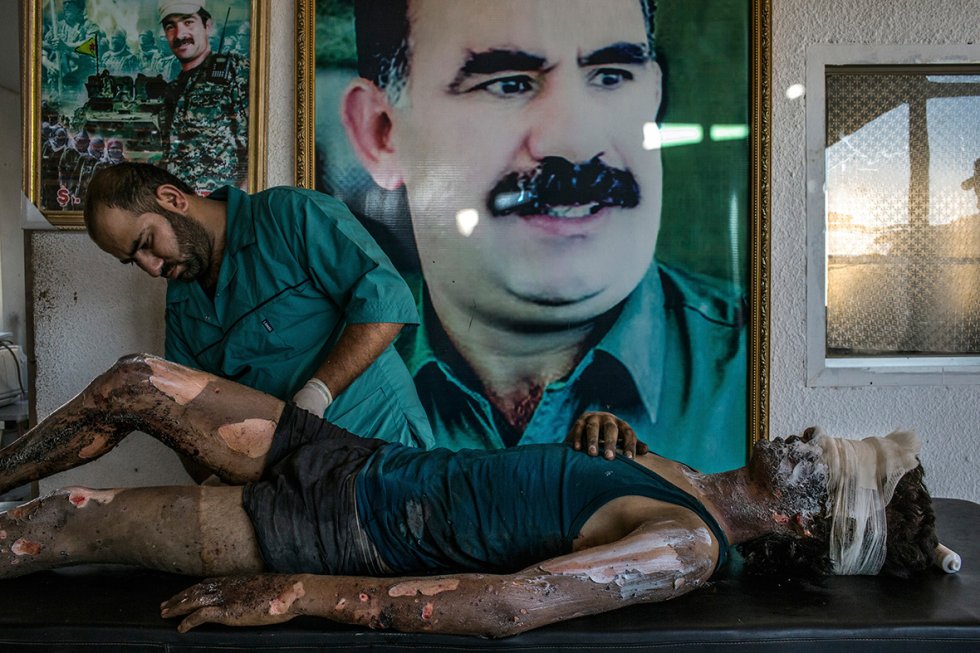 General News, second prize singles : Paul Hansen
Under the Cover of Darkness.
Volunteers assist refugees arriving on the Greek island of Lesbos, after crossing by boat from Turkey under cover of darkness to avoid detection.
December 6, 2015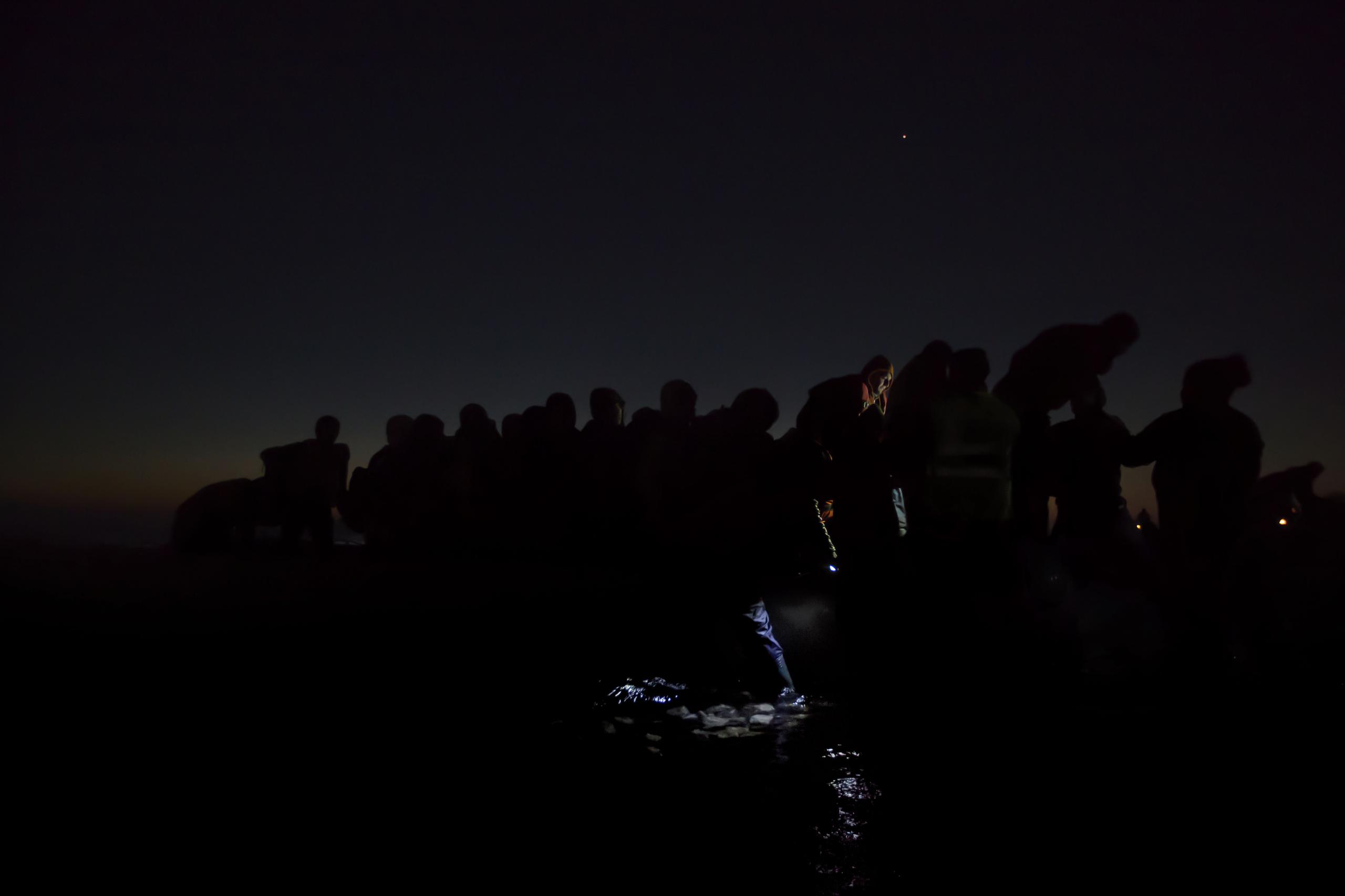 Spot News, first prize stories : Sameer Al-Doumy
Aftermath of Airstrike in Syria.
A man pushes his bicycle past debris following airstrikes in Hamouria, Syria.
December 9, 2015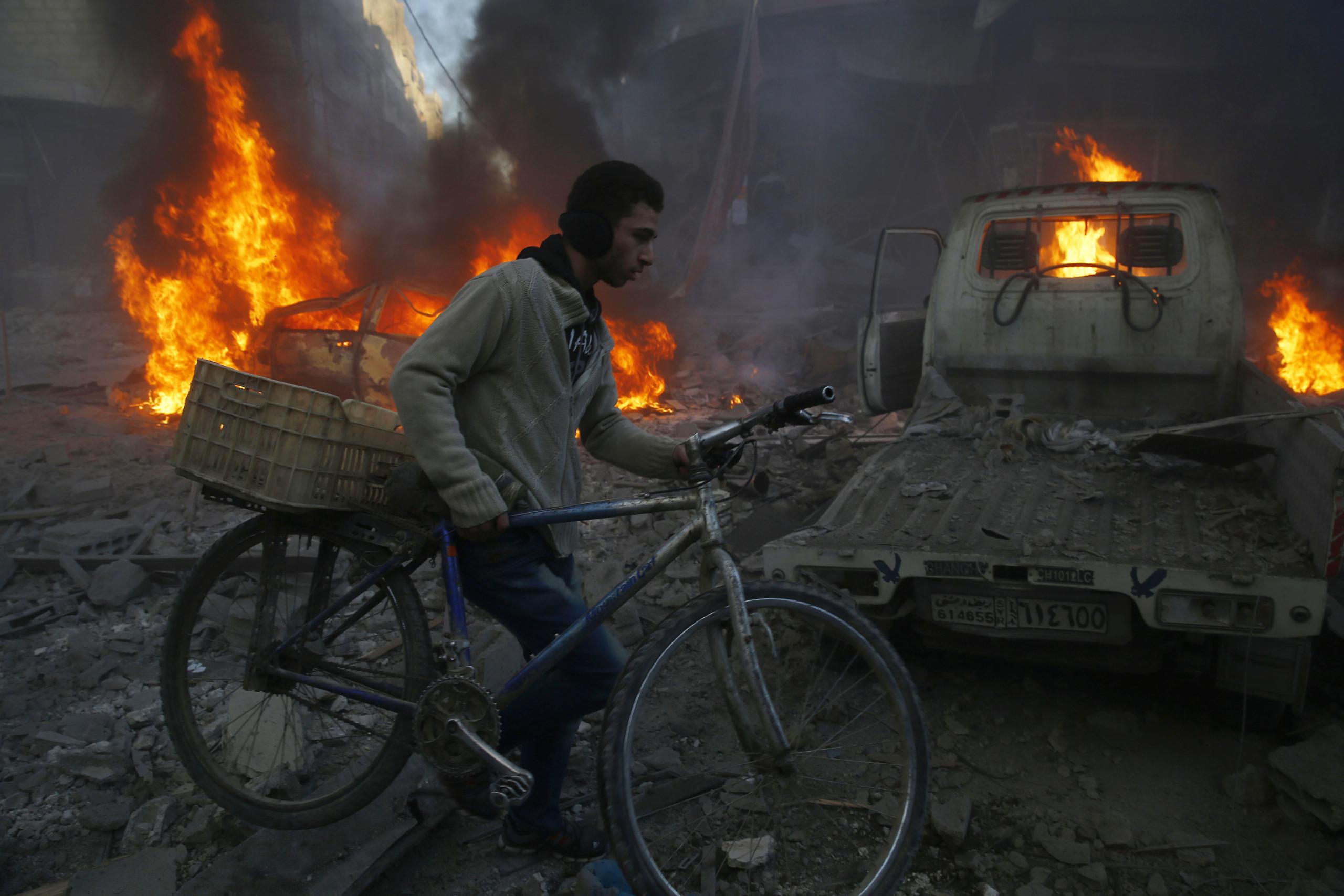 Spot News, second prize singles : Corentin Fohlen
March Against Terrorism in Paris
People demonstrate their solidarity with victims of terrorist attacks, and voice support for freedom of speech, at the end of a rally at the Place de la Nation in Paris.
January 11, 2015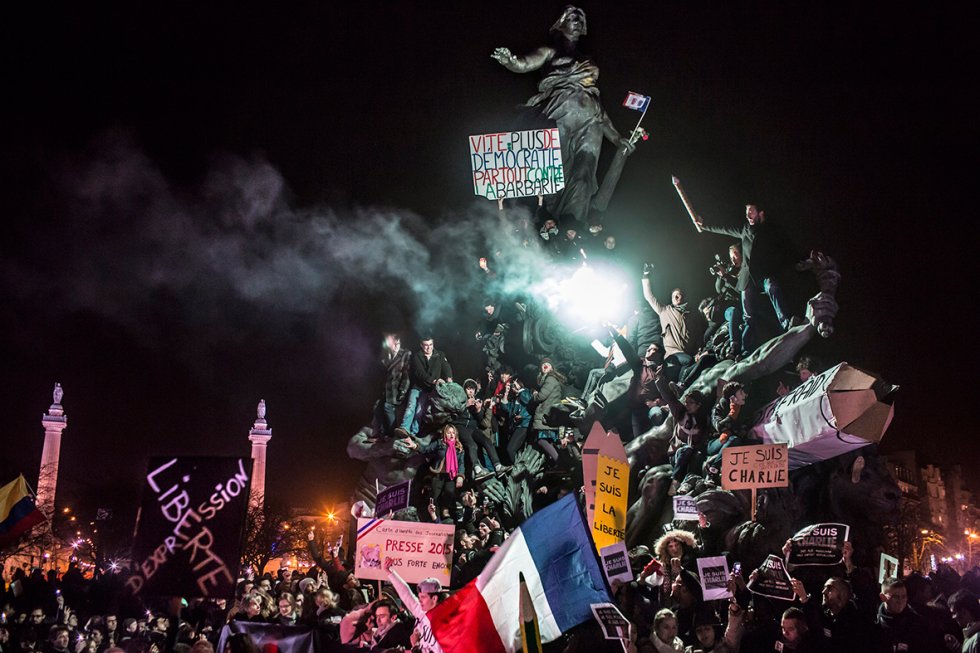 People, 1st prize singles : Matic Zorman

Waiting to Register.
Refugee children covered in rain capes wait in line to be registered at a refugee camp in Preševo, Serbia. October 7, 2015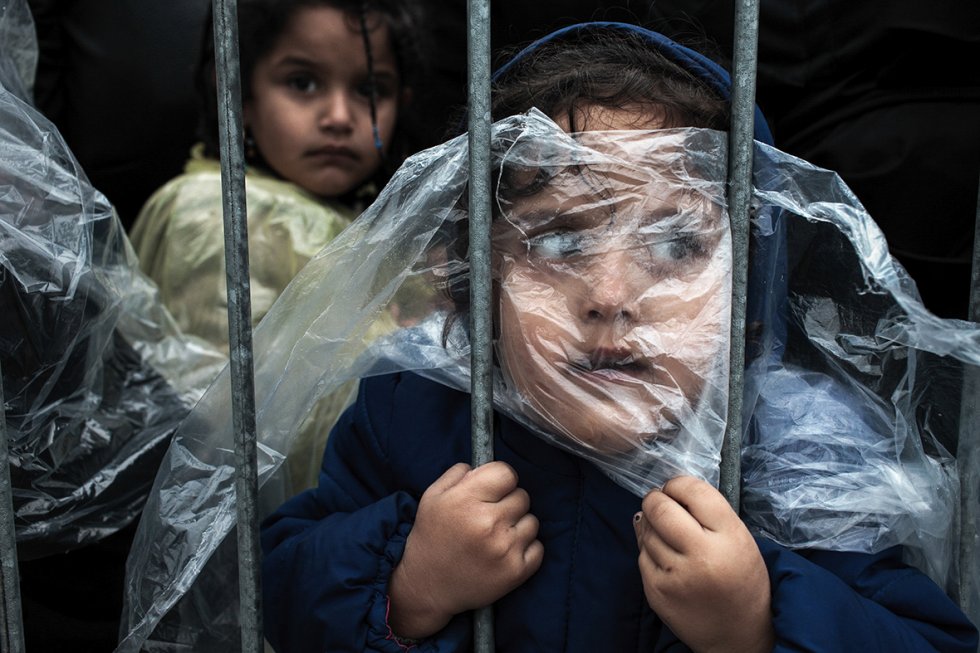 Nature, 1st prize singles : Rohan Kelly
Storm Front on Bondi Beach.
A massive shelf cloud moves towards Bondi Beach.
November 6, 2015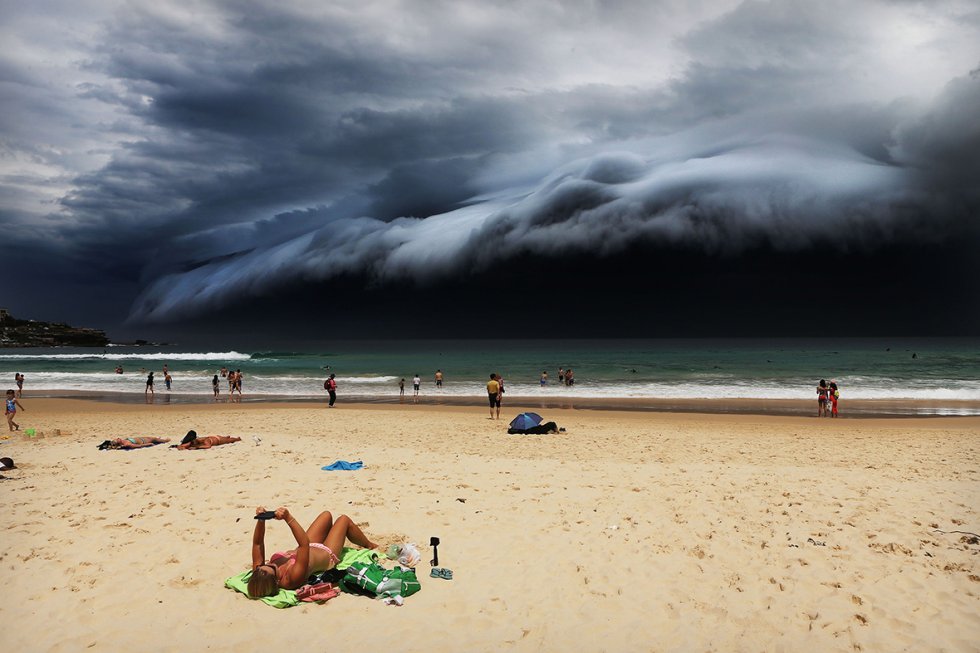 Nature, second prize singles : Anuar Patjane Floriuk
Whale Whisperers.
A humpback whale and her newborn calf swim near Roca Partida, the smallest island of the Revillagigedo archipelago, off the Pacific coast of Mexico.
January 28, 2015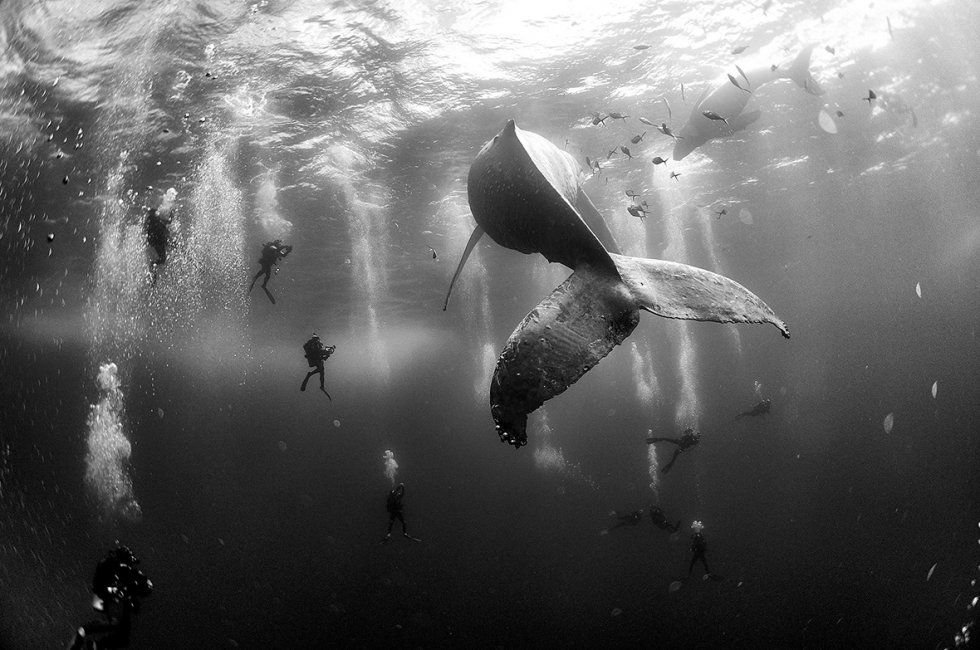 Nature, third prize singles: Sergio Tapiro
The Power of Nature.
Colima Volcano erupts with rock showers, lightning, and lava flows in Mexico.
December 13, 2015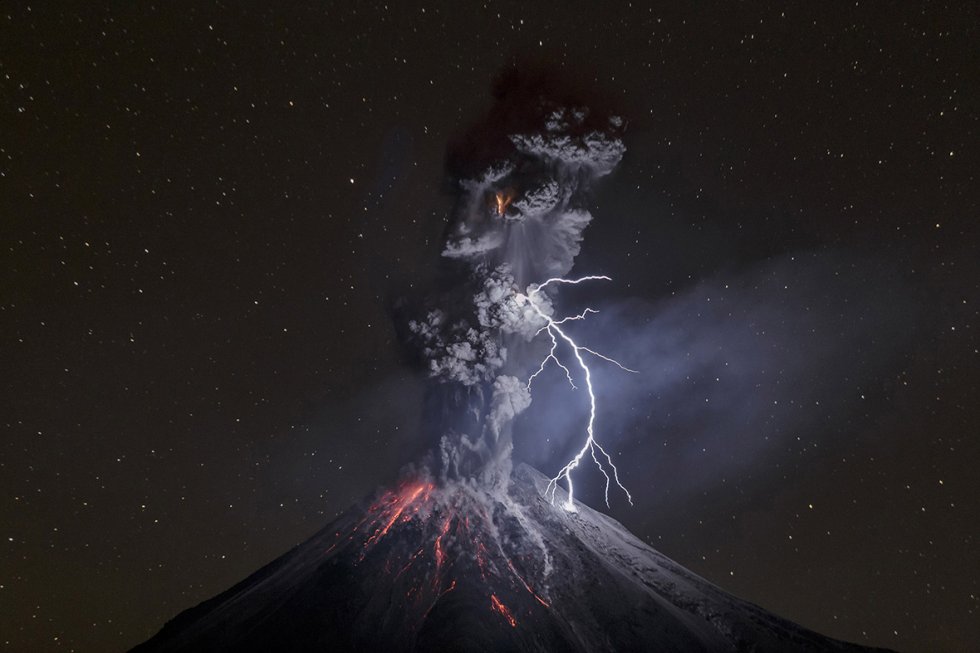 The winning pictures are published in a yearbook available in multiple languages.
All the informations about the upcoming 2016 exhibition tour.