3D technology comes to the rescue after the destruction of several world cultural treasures by the militant group Islamic State in Iraq and Syria (ISIS).
According to the United Nations, ISIS has destroyed and damaged 200 world heritage sites along with hundreds of statues and artefacts since 2014.
ISIS' plan is simple. It is about erasing all traces of previous cultures to establish their own and take advantage of the media coverage following massing destructions of historic sites to grab the world's attention. In addition, this cultural cleaning is a way for Daesh to finance their activities by selling to dealers and private collectors.
Yet those lost treasures that some call "blood artifacts" may not be lost forever.
Through her digital fabrication and 3D printing project "Material Speculation : ISIS", Iranian artist and activist Morehshin Allahyari chose to focus on the reconstruction of selected artifacts and statues destroyed by ISIS in Iraq in 2015.
In addition, to repair history and memory, each 3D printed object comprises a flash drive and a memory card. The data in these flash drives contain materials: maps, images, videos and pdf files on the destroyed artifacts and sites. They were gathered thanks to a collaboration with different archeologists and historians, including and museum staff.
"Like time capsules, each object is sealed and kept for future civilizations."
– Morehshin Allahyari
Just like Murehshin Allahyari artifacts, Palmyra has suffered numerous act of vandalism. The Syrian desert city known as the Venice of the Sands lost the triumphal arch from 2,000-year-old Temple of Bel.
Devastated, many archaeologists talked restoration and reconstruction such as American lawyer/archaeologist Roger Michel. Indeed, as the founder of Oxford's Institute for Digital Archaeology, Michel has built a 3D facsimile arch from Palmyra's destroyed Temple of Bel.
Thanks to 3D technology, Pamlyra's rose again in London's Trafalgar Square last April to coincide with world heritage week. It should then travel on to Times Square in New York City.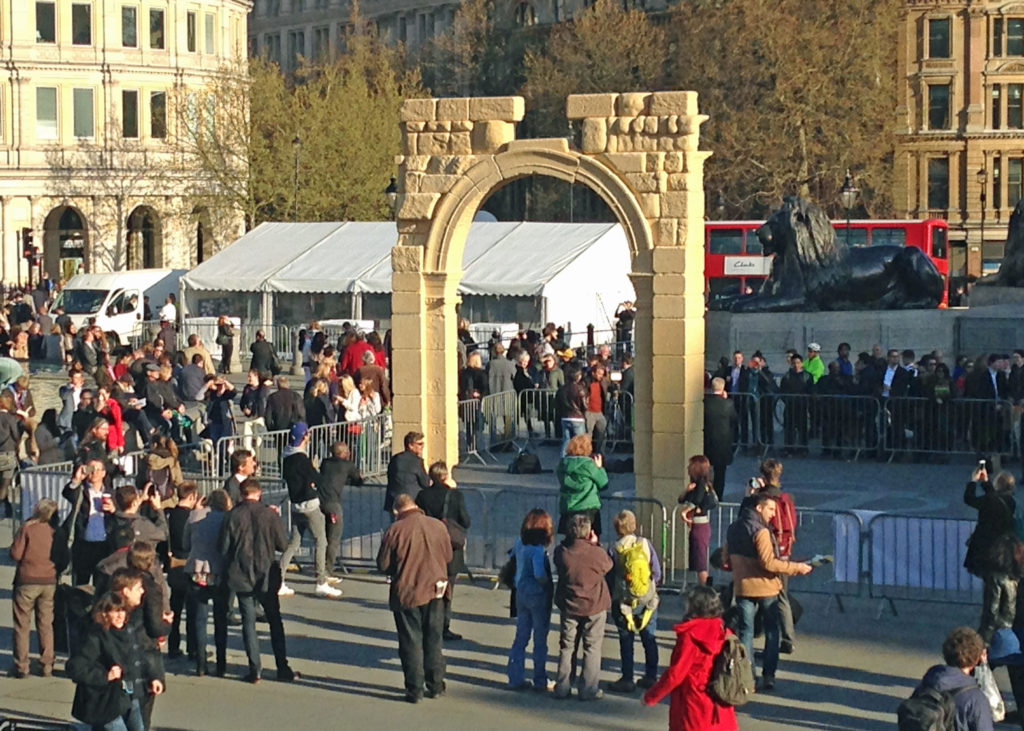 This 3D replica of the 15-meters arch that formed the temple's entrance is a gesture of defiance against ISIS' desire to erase cultural and historical evidence.
"My intention is to show Islamic State that anything they can blow up we can rebuild exactly as it was before, and rebuild it again and again. We will use technology to disempower ISIS." Roger Michel
Moving for some or uncanny for others, this incredible public display of 3D reconstruction is the proof that new technology can restore entire parts of 20th-century historical sites. Although out of their original context and site, 3D monuments or artefacts might still conserve their precious sense of place and craftsmanship, thus preserving everybody's heritage.
By Pauline Schnoebelen