The non profit organization FIFA will profit approximately $2 billion this year from the $4 billion the organization will take in from the World Cup. This amount is up 66 percent from its takings from the 2010 World Cup in South Africa.
During FIFA's 2007-2010  revenue cycle, revenue was $4.2 billion, providing a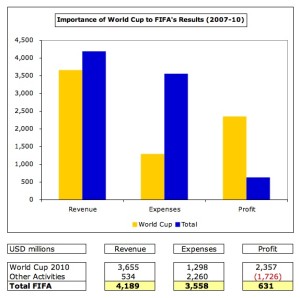 $631 million surplus, allowing FIFA to increase its reserves to $1.3 billion. Of the $4.2 billion in revenue in 2010, 87 percent ($3.7 billion) came from the World Cup, the main income source for FIFA. After expenses of $1.3 billion, FIFA profited $2.3 billion.
FIFA is spending $2 billion on the 2014 World Cup–$576 million will go to the winning teams. Ticket sales, corporate sponsorships and other revenue are projected to amout to $4 billion, however.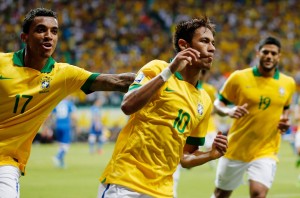 FIFAs second largest source of income is World Cup rights, which in 2010 amounted to $1.1 billion. Marketers, such as Adidas, Coca-Cola, Emirates, Hyundai, Sony and Visa, payed an annual fee of $24-45 million for the privilege of using the FIFA-controlled rights, including marketing assets, and sponsors such as McDonald's and Budweiser payed an annual $10-25 million for even greater access.
Costs for FIFA are topped by operating expenses and governance. In the 2007-2010 cycle, FIFA spent $0.9 billion on itself. The amount of $0.8 billion went to football development, and $0.7 went to operating expenses and $0.2 to "governance."
Essentially, the organization maintains a non-profit status not by not profiting, but by paying its employees the amount that the company brings in and keeping a reserve fund, so that costs are just covered by gross.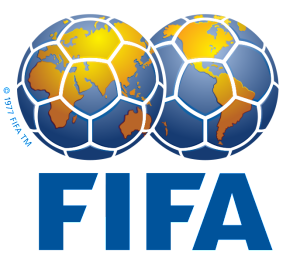 In its 2013 fiscal year, FIFA paid its 35 "key management personnel"–Members of the Executive Committee, the Finance Committee and the FIFA management, in particular the directors–short-term employee benefits of $36.3 million. In 2012, it paid them $33.5 million. However, in addition to the short-term employee benefits, FIFA "contributes to defined post-employment benefit plans." Pension expenses in 2013 were $2.3 million. However, even after deducting a sum like $36 million, there are questions about the $2 billion will go.
Questions about the corruption within the FIFA organization have been raised recently by the New York Times and others, including allegations linked to leaked conversations in which millions of dollars in bribes were discussed.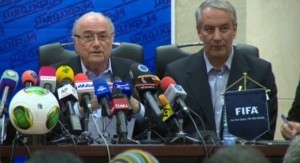 In response to strong accusations of corruption, FIFA issued a statement on its website Tuesday entitled "Setting the record straight." In the introductory statement FIFA wrote, "FIFA is a non-profit organisation which shares the success of the FIFA World Cup™ with the global football community to develop the game from grassroots up and to spread positive values on and off the pitch."
In the statement, FIFA wrote, "FIFA has covered the entire operational costs of the World Cup to the tune of around $2 billion USD. We don't take any public money for this, and instead we only use the money generated by the sale of World Cup TV and marketing rights."
As to the demands FIFA reportedly makes on its sponsors, FIFA wrote, "FIFA does not make any demands for a general tax exemption for sponsors and suppliers, or for any commercial activities in the host country. Instead, FIFA only requires an easing of customs procedures for some materials that need to be imported… ."
Of FIFA's non-profit status and its massive profits, FIFA wrote, "… the question is: what does FIFA do with the profits from the World Cup? In short, all 209 member associations will benefit in equal measure. In fact, FIFA spends $550,000 USD on worldwide football development – every single day. What is more, we also spend nearly $2 million USD on organising international competitions – every single day.
The 2014 event in Brazil is costing the country an estimated $14 billion, while 16 percent of Brazilians are stricken with poverty. Poor Brazilians living in urban favelas have been evicted during the construction of the new stadiums to the tune of 250,000 people.
By Day Blakely Donaldson