This Celtic warrior personifies Ireland

Conor McGregor is the white Muhammad Ali. I say this because of what the American boxer represented to his people. He was always cognizant of what his success meant to underprivileged African-Americans in the USA. McGregor embodies something similar: his Irish red beard, ripped UFC torso, his cutting mouth and his fixed mind obliterates opponents and stereotypes alike. He is arrogant, trenchant, and he is our's.
He is a charmer. While Ireland is seen as a nation of charmers, it is usually in the way of the storyteller and the rogue and while I apprise these virtues and vices of ours, for these tools of soul and character live in both extremes, the arrogant charm of McGregor announces itself differently. It is not as eloquent as Ali's but it is no less domineering in its delivery. McGregor sees himself as the king yet despite his unwavering devotion to his carefully managed cult of personality, he makes declarations with the intelligence and awareness of a man who fully appreciates the extent of his value to the sport of UFC. He is brand building and, with Ireland officially one of the best places to do business in and with a number of top-level executives across America, how often do you hear of Paddy the business man? Furthermore, like there are different fighting styles, there are different fighting men and McGregor's wit is more brutal than the velvet approach of Ali. Though, on this point, Joe Frazier might disagree.
McGregor is almost literally cut from the same cloth as Ali, fitted into fine suits and keenly aware of his wealth and status. 'I'll wipe my tears with my money' is one retort to an online insult. He just recently appeared on Conan O'Brien in what should prove to be classic TV appearance on a format that conduced the personality of Ali through the screens of Americans, the British via Michael Parkinson, and in Ireland where he expressed a kinship with the Irish. Ali was photographed and televised and a number of iconic images are his legacy, such as a deified Ali punctured by arrows. If McGregor sees himself as the king, Ali saw himself as god. McGregor is just beginning to master this side of his cult but it seems obvious that he will go on and fill the lenses of fans, artists, and chroniclers of men who are transcendent.
The fighting Irish. Read or hear this and the drunken Paddy will be probably come to mind or, possibly, a balaclaved terrorist. The recent passage of the Marriage Equality Bill in Ireland seemed inevitable to Irish people yet surprising to the outside world. After all, we are Catholic backwater that hates personal freedom, right? We are the fighting Irish. We are the Irish that fought for women's voting right before any other country. We are the Irish who fought for trade unions with other impoverished tribes around America. We are the Irish helped Indian democracy. For me. McGregor, as a fighting Irishman is fighting for the pride of Ireland and who represented the boss of the UFC for calling him British. He is keenly sensitive to ignorance. He is one of us, then.
Finally, he is a one-man motivational industry. His frenzy and magnetic self-belief were constants even as a teenager. Now he is king. YouTube is saturated with montages and fan videos of inspirational music with plenteous quotes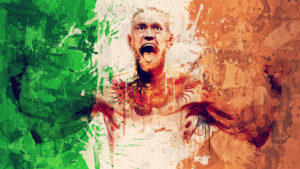 from actors and motivators. They are good and I quite enjoy them, but who has never wondered: if they can do it, why not me? McGregor now has videos that follow the necessary formula, appropriate music and the fade in and fade out of choice quotes to move the heart of you.
McGregor will contest the Interim Featherweight Title on July 11th against Chad Mendes. Everybody in Ireland expects our boy to bring it home. Like Batman, he is the hero we need right now. He is not ashamed of where he comes from and he can teach us to be proud of a real Ireland, a confident Ireland, our Ireland. There are those outside who do not understand us and those inside that are still colonized in the mind, scared of being Irish. We were told we couldn't things for  so long that we started telling ourselves the same. McGregor is the answer. His intro music of  traditional Irish ballads fused with hip hop harmonize the two Irelands, the Ireland we were born into and the Ireland we want to nurture.
And I like his beard.
Opinion by Enda Kenneally