Bigelow Aerospace's inflatable BEAM module — a new lightweight activity module, part of Bigelow's continued endeavors toward putting into use a wide range of portable expandable habitation spaces, including the living-and-working-space BA-330 (pictured above) — has been scheduled for a March NASA mission to the space station.
The Bigelow Expandable Activity Module will be sent to the space station in the SpaceX Dragon capsule, and will be berthed to the space station's Tranquility node. It will then be pressurized and expand to its full size with air stored in the compressed module.
BEAM will then be monitored through a test period of two years. Astronauts will periodically enter the module to inspect it and gather performance data.
After the test period, BEAM will be jettisoned and will re-enter Earth's atmosphere, burning up.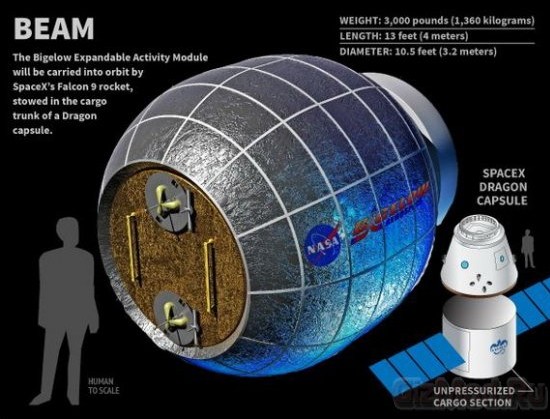 Bigelow Aerospace is working with NASA to produce expandable systems, including habitational systems, and has already completed two succeful missions with its Genesis pathfinder I and II spacecraft — missions noted for their relatively low-cost.
The low cost comes from the low weight of the Bigelow constructions — one-tenth the weight of some similar modules. Improvements in craft weights have come in large part from advances in lightweight, strong materials such as Kevlar.
The BEAM module walls are made of many layers of Vectran, a material similar to Kevlar but made of spun liquid crystal fibers, and fire-resistant Nomex.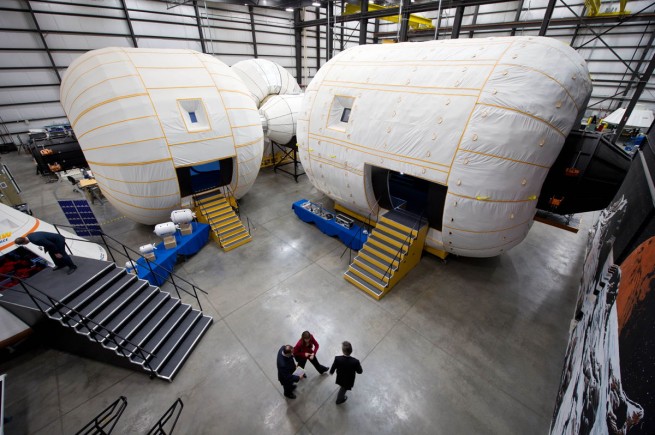 The Nevada-based company is working towards a standalone space habitat in addition to its current module projects. A large expandable module is already being developed by Bigelow — three times the size of any individual module on the ISS, the BA330 is designed for a maximum crew size of six in its 330-meter square environment. The BA330 is designed to be used in conjunction with other modules to build larger module complexes in space.
By Andy Stern
Some images of future BEAM modules