The share of farmland tended by small farmers is shrinking. The land is changing hands. Although small farms are more productive than large farms and tend to grow food products–they produce 80 percent of the world's food–they are being swallowed up by large corporate farms that grow high-profit crops for export markets. The land left to the largely food-producing small farms is currently only 24 percent of fertile land, and that number is declining sharply.
"Over the past decades, small farmers have been losing access to land at an incredible speed," Henk Hobbelink, coordinator of GRAIN, told The Speaker. "If we don't reverse this trend we will not only have more hungry farmers in the future, but the world as a whole will lose the capacity to feed itself."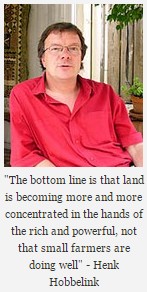 GRAIN investigated land use data worldwide to understand the global and specific trends currently taking place with regard to farmland.
"What became very clear from our research is that increasingly fertile farmland is being taken over by huge industrial operations that produce commodities for the global market, not food for people," Hobbelink told us. "Small farmers, who continue to produce most of the food in the world, are being pushed into an ever diminishing share of the world's farmland.
"This trend has to be reversed if we want to be able to feed a growing population," he said.
However, many governments and international organizations are offering grossly incorrect or misleading figures, according to GRAIN, such as those announced by representative's of the UN Food and Agriculture Organization's (FAO) recent "State of Food and Agriculture"–which was dedicated to family farming.
At this year's inauguration of the International Year of Family Farming, UN FAO Director General Jose Graziano da Silva stated that 70 percent of the world's farmland was managed by families, echoing previous conclusions by the UN and other world organizations.
The percentage of farm land currently in the hands of small farms (an average of 2.2 hectares) is, according to GRAIN, actually less than 25 percent. Excluding China and India–where about half of all small farms are located–the ratio is less than one-fifth.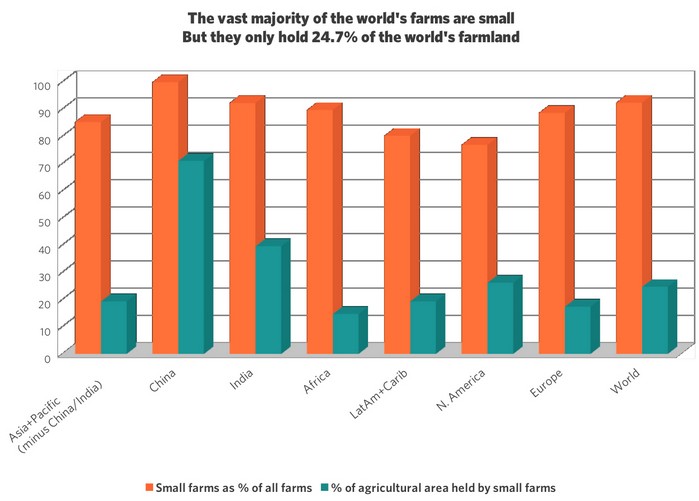 Similar findings were in evidence for every region of the world.
For example, in Belarus small farmers produced over 80 percent of fruits, vegetables, potatoes and vegetables with only 17 percent of the land. In Botswana, small farmers produced at least 90 percent of millet, maize and groundnuts with less than eight percent of the land.
"Because rural peoples' access to land is under attack everywhere. From Honduras to Kenya and from Palestine to the Philippines, people are being dislodged from their farms and villages," GRAIN found. "Those who resist are being jailed or killed. Widespread agrarian strikes in Colombia, protests by community leaders in Madagascar, nationwide marches by landless folk in India, occupations in Andalusia–the list of actions and struggles goes on and on."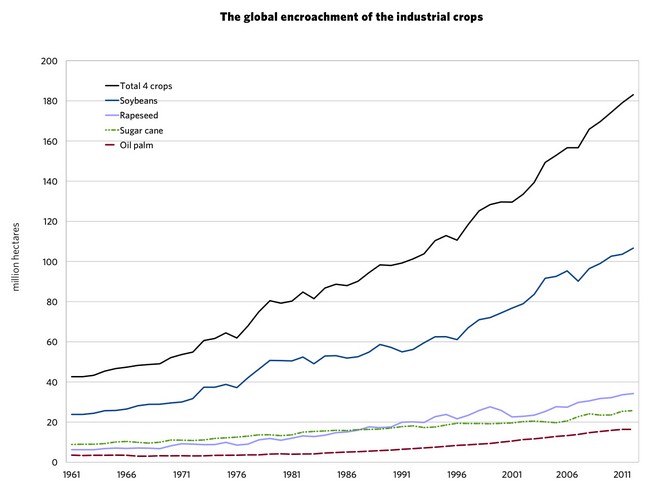 Eighty percent is also the figure given for the percentage of the world's hungry people who live in rural areas. Many of these people are farmers or farmworkers.
Hobbelink explained this finding to us by saying that it was the result of small farmers simply not having enough land to produce food, and losing access to land at a rapid rate.
There were six general findings GRAIN found to be most compelling.
First, most of the world's farms are shrinking. Second, the total of these farms account for less than 25 percent of the world's farmland. Third, big farms are getting bigger, and small farms and farmers are losing to them. Fourth, despite this, small farms continue to be the world's biggest food producers. Fifth, overall, small farms are more productive than big farms. Sixth, most small farmers are women.
Particularly surprising to the researchers was that land was becoming increasingly concentrated, despite extensive global agrarian reforms.
A "kind of reverse agrarian reform" is taking place in many countries, according to GRAIN. Most of this is happening through corporate land grabbing in Africa and foreign investment and massive farm expansion in Latin America and Asia.
Besides land concentration, among the forces causing small farms to collapse are population pressure and lack of access to land.
Even in India and Asia farms have been shrinking. In India, the size of the average farm is 50 percent of what it was in the 1970s, and in China farm sizes shrunk 25 percent between 1985 and 2000.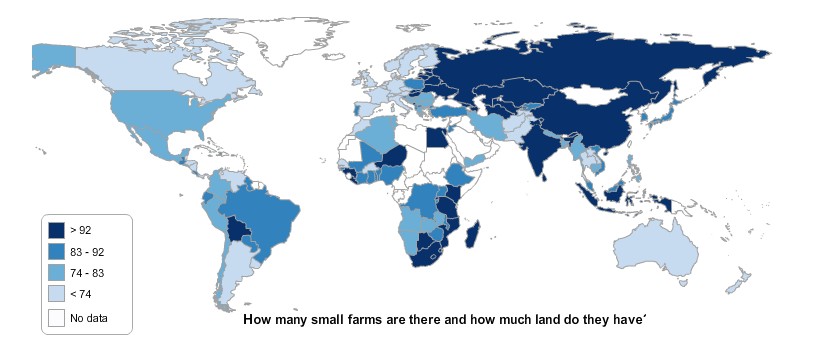 In Africa, where no official statistics for farmland concentration were available to GRAIN, researchers based their conclusions on research papers that indicated small farms were shrinking there as well.
Why small farms produce so much, and why they are losing to big corporate farms, was explained by GRAIN in their report: small farms tend to focus on food production, which is then bought from local markets and eaten. Large farms focus on return on investment, and tend to grow more export commodities such as animal feed, biofuels, and wood products. Thus, big farms, with maximized profits, are able to buy more land to produce high-profit commodities.
"Corporate farms a backed by big money, often from the finance industry, investment firms, etc.," Hobbelink told us. "They are also able to access and influence political decisions at high level, and in this way often get handed over huge swaths of land at incredible low prices or for free. In the meanwhile, small farmers don't have access to credit, and are up against agricultural policies that discriminate against them."
Besides that, however, small farms tend to be more productive than large farms anyway, according to GRAIN. This phenomenon, which has been termed "the productivity paradox" because it seems contrary to what many people are told, is evinced in statistics. In nine EU countries, small farms have at least double the productivity of large farms, and the other countries show only slightly higher productivity for large farms. According to their findings, GRAIN calculated that if large farms in some Central American and African nations were as productive as small farms, national agricultural production would double.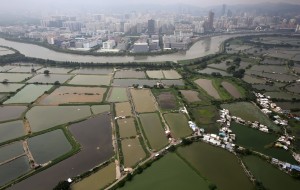 In its findings, GRAIN also pointed out that big farms are less productive even with more resource consumption, the best land, most of the irrigation water, and better credit and technical assistance.
Much of the disparity is also due to differences in labor, GRAIN concluded. Big farms cut labor to maximize profits, and this labor is needed for better production.
"There are multiple factors at play," Hobbelink told us. "In countries with big population growth, farmers without access to more land are forced to divide their land amongst their children. Expansion of urban areas into farmland, the same for mining, tourism, etc. But perhaps the most important factor is the global expansion of industrial plantation farming encroaching upon areas where small farmers and indigenous peoples live.
"The reason why small farmers still produce the majority of the world's food is twofold. On one hand–as we show in our report–they are simply more efficient, more productive, than the large industrial plantations. And on the other hand they prioritize their land use towards producing food, while industrial plantations mostly produce commodities that no one can eat, or that need a lot of processing before they end up in our food: soybean, oilpalm, sugarcane, rapeseed, etc."
"The bottom line is that land is becoming more and more concentrated in the hands of the rich and powerful, not that small farmers are doing well," GRAIN concluded.
"Today, small farmers feed the world and we need them to continue to do so," said Hobbelink. "If we don't reverse the current trend of the corporate takeover of the worlds farmland to produce industrial commodities, they will not be able to do so and we will all lose out."
Photos: all belong to the work of GRAIN