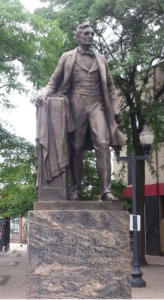 The city is currently weighing removing Abraham Lincoln statues, part of a "racial healing and historical reckoning project" that began last summer under Democratic mayor Lori Lightfoot.
The city removed a statue of Christopher Columbus a few months ago.
Other statues being considered for removal are of presidents George Washington, Ulysses S. Grant and William McKinley.
By Sid Douglas