As many as 950,000 people have descended upon Barcelona Sunday, from all over Spain to protest Catalonia's bid for Independence and to support the continued unification of the Spain with cries of "Long live Spain, long live Catalonia."
Josep Borrell a speaker in the rally, a Catalan and Ex-president of the European Parliament spoke out against Carles Puigdemont, leader of the separatist movement and asked him "Not to throw this country off the cliff."
From the beginning when the illegal referendum began on the 1st of October, a propaganda war between Catalonia and Spain ensued, and it was clear from the outset that Catalonia was winning, the victory handed to them by the Spanish state that deployed more than 4000 of the Spanish Civil guard and Police across the province looking to close down polling booths.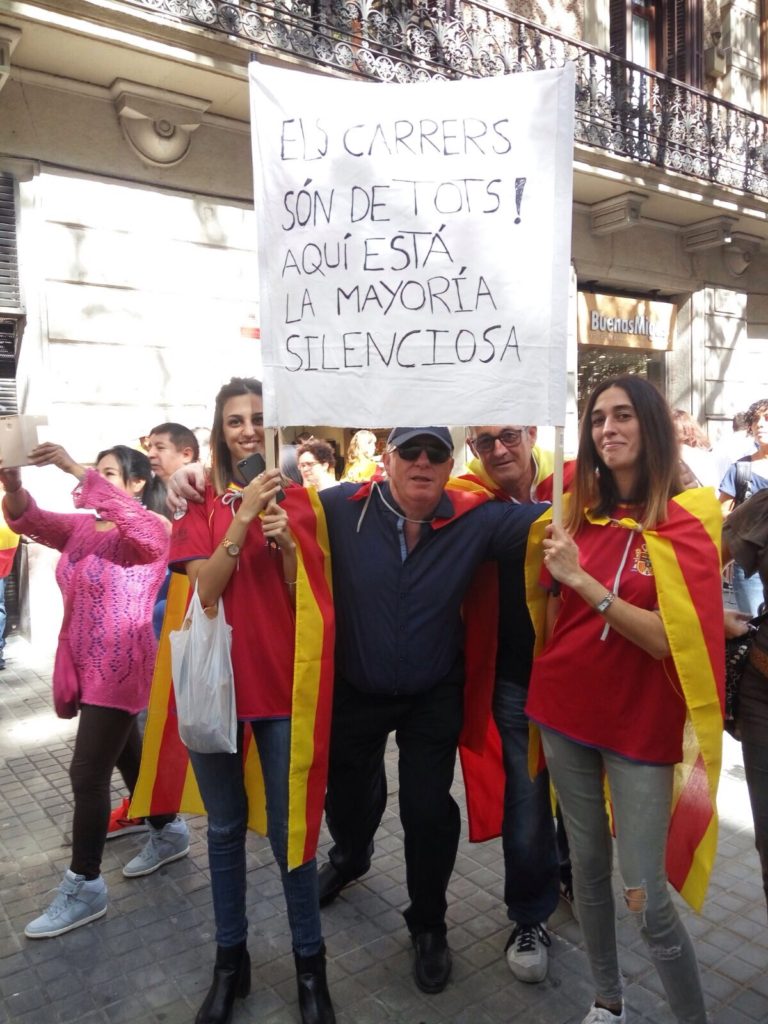 The photographs of armed Police firing rubber bullets and brutally mistreating protestors flashed across the globe, garnering international support from such newspapers as The Guardian who openly supports Catalonia´s right to self-determination. Julian Assange has put his weight behind the cause from day one, calling the Spanish response "Very serious repression by European standards." He has gone so far as to compare Spain with China in the way it has dealt with the situation.
The independence referendum was intended to be etched in the minds of the Catalans as the day Catalonia defied Spain, harking back to the war of the reapers and the Catalan uprising of 1640. It was to be a day of revolution and an official long-awaited divorce from Spain, like a bad marriage that has run its course. The outcome had been predicted by a test vote from November 2014 that the voting would produce a positive result for the Catalan government and that independence would be declared within 48 hours of the last vote being made.
A week has passed since the vote on the 1st of October and no independence has been declared yet.
The Catalan government has been seen to be stalling with rumors of infighting between the various independence parties and no real long-term implementation strategy for any kind of self-governance.
To add to this the Spanish government is refusing to enter into any talks regarding Independence. The interior minister Juan Ignacio Zoido Called the vote "Nothing more than a spectacle."
2.3 Million people voted on the 1st of October, many of those people voted 3 or 4 times, regardless of the presence of international mediators there was little control or organization. Only 42% of the Catalan population turned out to vote. Some were excluded, including a large foreign population and migrants from the rest of Spain. Others refused to vote and others simply were too worried to leave the house, knowing full well that things were going to get ugly at the polls. This 58% have become the majority without a voice, caught between two polarized Political opposites, heavily invested in their own agenda.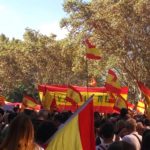 Since the vote, this silent majority without a voice has begun fractioning, some have come out in support of Spain and the unity of the state, some have joined the independence movement; unhappy with the way the Spanish state handled the referendum. Others have looked to the middle ground and "Hablamos" (Let's talk) a movement which has opted for white flags, believing in a truce and dialogue between Catalonia and Spain with the tagline. "We are better than our leaders, let's talk."
Meanwhile, the Catalan parliament stalls, banks, and large conglomerates are leaving the province in droves. Banco Sabadell, Spain's fifth largest banking group has moved its headquarters to Alicante, Biotech firm Oryzon Genomics has said it will be moving to Madrid. Its shares have surged 29% since then.
In turn, hotels owned by pro-independence supporters have asked any Police or Civil Guards stationed under their roof to leave.
As a result an audio recording went viral regarding a phone call to the Police in Madrid by a concerned citizen of Barcelona offering beds for the night and thanking the police for their help has led to an overwhelming surge in support to the Police, the caller saying in an emotional and tearful phone call that she felt alone and forgotten by the Spanish state. As a consequence Pro-Spanish support has begun to rise, something which was somewhat lacking during the voting. During the lead up to the referendum, the streets in Barcelona were filled with the independence flag, the "Estelada" (based on the flag of Cuba,) flying from balconies. Spanish flags have now also begun to appear in support of the continued unity of Spain. The King of Spain in a televised interview said that the people of Barcelona who believed in unity were not alone.
However the events in Catalonia continue to play out, a large proportion of the population is feeling insecure with the way their future is being decided for them.
By Anthony Bain
When political parties reverse their policy stance, their supporters immediately switch their opinions too
At least a significant portion of their supporters, according to U of Aarhus researchers.
When two competing political parties in Denmark reversed their policy stance on an issue — suddenly they both supported reducing unemployment benefits — their voters immediately moved their opinions by around 15% into line with their party.
The same thing happened when one of these parties shifted from opposing to supporting ending Denmark's early retirement.
The researchers were studying how public opinion is formed. Their recent paper sheds light on how much influence political parties have over their supporters, according to the researchers, who surveyed their panel of subjects in five successive waves between 2010 and 2011. They studied the same group of party supporters before, during and after a policy reversal.
"We can see that [the] welfare programs were actually quite popular … and many of the voters of the center-right party were in favor of these welfare programs," commented one of the researchers, Rune Slothuus. "Nevertheless, we can see that they reversed their opinion from supporting these welfare programs to opposing these welfare programs."
"I was surprised to see the parties appeared this powerful in shaping opinions," Slothuus said. "Our findings suggest that partisan leaders can indeed lead citizens' opinions in the real world, even in situations where the stakes are real and the economic consequences tangible."
The researchers pondered Western democracy in light of their findings: "If citizens just blindly follow their party without thinking much about it, that should lead to some concern about the mechanisms in our democracy. Because how can partisan elites represent citizens' views if the views of citizens are shaped by the very same elites who are supposed to represent them?"
The brain listens for things it is trying to predict
The brain interprets sounds as they contrast with its expectations; it recognizes patterns of sounds faster when they're in line with what it is predicting it will hear, but it only encodes sounds when they contrast with expectations, according to Technische U researchers.
The researchers showed this by monitoring the two principal nuclei of the subcortical pathway responsible for auditory processing: the inferior colliculus and the medial geniculate body, as their subjects listened to patterns of sounds which the researches modified so that sometimes they would hear an expected sound pattern, and other times something unexpected.
Source: Alejandro Tabas, Glad Mihai, Stefan Kiebel, Robert Trampel, Katharina von Kriegstein. Abstract rules drive adaptation in the subcortical sensory pathway. eLife, 2020; 9 DOI: 10.7554/eLife.64501
We have a particular way of understanding a room
When several research subjects were instructed to explore an empty room, and when they were instead seated in a chair and watched someone else explore the room, their brain waves followed a certain pattern, as recorded by a backpack hooked up to record their brain waves, eye movements, and paths. It didn't matter if they were walking or watching someone else, according to UC researchers led by Dr Matthias Stangl.
The researchers also tested what happened when subjects searched for a hidden spot, or watched someone else do so, and found that brain waves flowed more strongly when they had a goal and hunted for something.
Source: Matthias Stangl, Uros Topalovic, Cory S. Inman, Sonja Hiller, Diane Villaroman, Zahra M. Aghajan, Leonardo Christov-Moore, Nicholas R. Hasulak, Vikram R. Rao, Casey H. Halpern, Dawn Eliashiv, Itzhak Fried, Nanthia Suthana. Boundary-anchored neural mechanisms of location-encoding for self and others. Nature, 2020; DOI: 10.1038/s41586-020-03073-y
Extroverts and introverts use different vocabularies
Extroverts use 'positive emotion' and 'social process' words more often than introverts, according to new research conducted at Nanyang Technological U.
'Love,' 'happy,' and 'blessed' indicate pleasant emotions, and 'beautiful' and 'nice' indicate positivity or optimism, and are among the words found to be used more often by extroverts. So too are 'meet,' 'share,' and 'talk,' which are about socializing. Extroverts use personal pronouns — except 'I' — more too, another indication of sociability.
The correlation, however, was small, and the researchers think that stronger linguistic indicators need to be found to achieve their general goal, which is improving machine learning approaches to targeting consumer marketing.
Source: Jiayu Chen, Lin Qiu, Moon-Ho Ringo Ho. A meta-analysis of linguistic markers of extraversion: Positive emotion and social process words. Journal of Research in Personality, 2020; 89: 104035 DOI: 10.1016/j.jrp.2020.104035
WhatsApp is changing today - Users must give the app permission to send their private data to Facebook or lose account
WhatsApp was bought by Facebook in 2014, but has thrived while promoting itself as a privacy-respecting messaging app that now has 1.5b monthly active users. This week, though, WhatApp sent out an update to users' phones that they must 'consent' to a new policy or lose access.
Whatsapp will now share more of your data, including your IP address (your location) and phone number, your account registration information, your transaction data, and service-related data, interactions on WhatsApp, and other data collected based on your consent, with Facebook's other companies. Facebook has been working towards more closely integrating Facebook, WhatsApp, Instagram and Messenger.
Users who do not agree to 'consent' to the new policy will see their WhatsApp account become inaccessible until they do 'consent.' These accounts will remain dormant for 120 days after which they will be 'deleted.'
The biggest change to the user policy, which many people ignored and clicked 'agree' to, thinking it was just another unimportant app update message, now reads,
'We collect information about your activity on our Services, like service-related, diagnostic, and performance information. This includes information about your activity (including how you use our Services, your Services settings, how you interact with others using our Services (including when you interact with a business), and the time, frequency, and duration of your activities and interactions), log files, and diagnostic, crash, website, and performance logs and reports. This also includes information about when you registered to use our Services; the features you use like our messaging, calling, Status, groups (including group name, group picture, group description), payments or business features; profile photo, "about" information; whether you are online, when you last used our Services (your "last seen"); and when you last updated your "about" information.'
Notably, Elon Musk tweeted on the news, saying that WhatsApp users should switch to Signal, one of several popular privacy-focused messaging apps similar to WhatsApp.
The data sharing policy change doesn't affect people in Europe due to GDPR data protection regulations.