Home prices are up in Canada, hovering around the record 6-year high point, but this is almost entirely due to trends in two areas: Greater Vancouver primarily and Greater Toronto on a smaller but still significant level, according to market authorities.
The Canadian Real Estate Association reported that Canada-wide, the average home price was now $454,000, up 12 percent on a year-by-year basis.
But factoring out the GVA and GTA, the average is only $337,000, up 5.4 percent.
Further, according to CREA, even this rise is due largely to price trends in areas near Vancouver.
Elsewhere in Canada, home prices are flat or declining.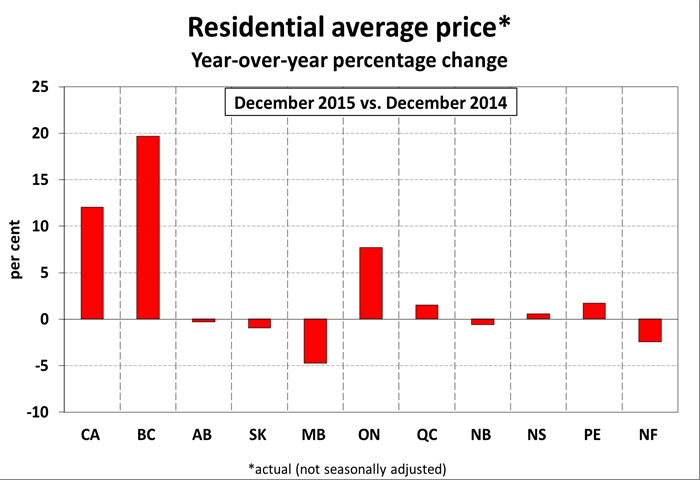 Factoring out the provinces of B.C. and Ontario, the average home currently costs $294,000, a decline of 2.2 percent year-over-year.
The VGA home costs $761,000 on average, up 35 percent from 5 years ago, and houses in nearby areas such as the Fraser Valley are also up to nearly $500,000, representing a rise of over 23 percent in the last 5 years. In both of these areas, all types of dwellings are up — two-story single family, one-story, townhouse and apartment.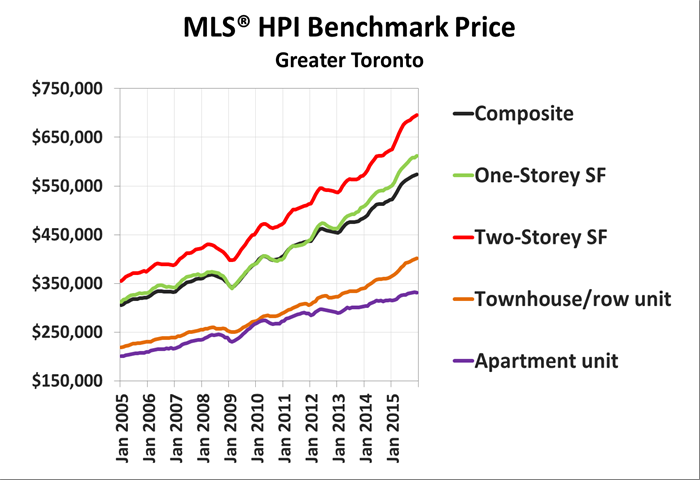 The biggest price rise in the last 5 years, though, was Toronto, where the average house price rose 42 percent to put it at $574,000, still $200,000 cheaper than Vancouver. All types of dwellings continue a steady rise in Greater Toronto — the steadiest rising trends of any market represented in CREA's chart data.
Images:CREA