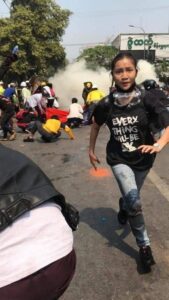 YANGON, Myanmar — Myanmar security forces cracked down on the protesters in Mandalay on Feb. 4, resulting in three deaths, including that of a 19-year-old woman. Eight others were wounded.
The woman wrote on her helmet that she had already given up body for the cause of democracy before she took to the streets.
The security forces used sound bombs, tear gas and live ammunition when they dispersed the anti-coup protesters.
Mandalay is the second largest city in Myanmar and was the capital city before the British occupation of the entire country was completed in 1885.
By Htay Win
Photo credit Wutyi Ma