At the Ohana festival in Dana Point, California this week, singer Eddie Vedder debuted a new song, called "Out of Sand."
"This is a new one I haven't played yet," said vedder sitting on a stool with an acoustic guitar on his lap.
The lyrics for the song were published Wednesday by PearlJamOnLine's twitter account.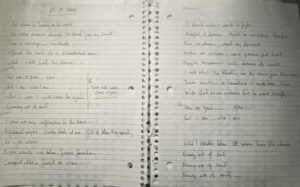 Vedder has not only contributed the song "Out of Sand" to David Lynch's 2017 return to the small screen, but he will appear in the series as well, as will several other musicians, including Trent Reznor, Eddie Vedder, Sky Ferreira, Ruth Radelet, and Sharon Van Etten.
SOLAT