BELGRADE, Serbia — Early Saturday morning the Macedonian town of Kumanovo was awakened by a major shootout and grenade explosions. According to local media reports, police officers were attacked by an armed group, estimated to be 70 fighters strong.
TV NOVA morning news reported that one whole part of the town was blocked by strong police forces, and many more of Macedonian army and police units were arriving from other places.
Unofficial reports confirmed three police officers had lethal injuries, while another 11 were wounded and were receiving care in hospitals.
Police action is in progress, and results are yet to be seen. There are unconfirmed reports of casualties on the other side as well.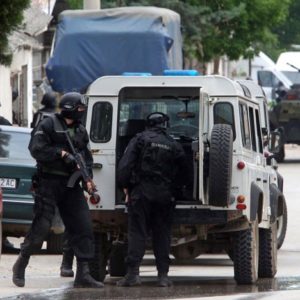 Kumanovo is a small town in northern Macedonia. This state is widely known for its long-lasting dispute with Greece, which has been unwilling to recognize their name due to historical reference.
With a mixed Christian and Muslim (Albanian) population, Macedonia has not been excluded from violence based on ethnic or religious grounds.
In 2001, Albanian paramilitary groups took control of a region close to Kumanovo, claiming their right to independence. Many months later and after the loss of hundreds of lives, Macedonia prevailed and peace talks resulted in wide democratic rights for the Albanian minority.
However, one month ago a strong group of the armed Kosovo Liberation Army (KLA) took control of a police outpost on the border between Macedonia and Kosovo and sent a message to the Macedonian government that they will fight for Great Albania. This, in general, reflects the wish of some Albanians to unite all of the nation in a single state, along with the territories where they live now. This 18th century idea affects all neighboring countries — Greece, Macedonia, Serbia, and Montenegro.
By Miroslav Velimirovic