Early rumours are unnerving. Baritone Chichester legend and Chi-Signs Festival opener Mike Fry is apparently lost on some lonely Sussex highway, destined not to perform or compere as scheduled due to unforeseen technical difficulties – his car suffered an internal haemorrhage on its way. The omens are bad and the crowd are restive, until the anticipatory throng witness the charming and eccentric Emily Cotton bounce onto stage.
With her proud golden red locks and assured picking, Cotton breezes through her half hour set with dainty confidence. English baroque folk treasures such as her own 'Lost' and 'Blame' sit easily alongside half-rapped, half-sung contemporary pop standards, until with a coy wink she's off, having seduced and intrigued in equal measure.
Ominously named The Crashing Bores are indeed sedate and reflective, but never tedious, as you suspect they well know. Les Black's plaintively sung tales of loss and beautiful dejection are sensitively accompanied on acoustic guitar by enigmatic sidekick Steve Roche, subtly highlighting the sepia tones of Black's stateliness. The Chi-Signs II compilation standout 'Birds' is achingly tender in the mid afternoon sun.
An abrupt change of pace as Southampton's Pondlife bring their coruscating, surf twang buzz punk to The Chichester Inn. Adrian Edmondson lookalike frontman Jules Faux is a stage-right rock as his merry bunch politic and bounce through a loose but edgy six string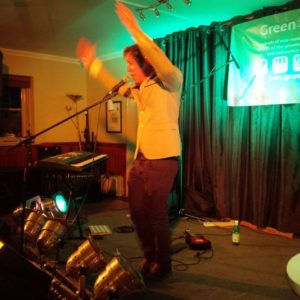 noise, clattering through joyous versions of 'Knife In Your Back', with its euphoric backing vocals, and the fantastically sweary 'Stupid Song', and it's all over before it seems it's even started.
An hour's filmic space now as the line up re-orientates itself for the evening session, and the hypnotic washes of Ettuspadix (Beautilator) soothe the audience into a surreal trance. Found sounds here, a glacial synth stab there, all brought together in the understanding that Ettus never plays anything twice, and he's controlling the whole sound from under an umbrella in the sun-baked garden while smoking a pipe.
Young Chi bounds in, as surprise guest and multi-instrumentalist Chris Cox rattles through a brief clutch of impassioned, perfectly executed covers of the likes of Ben Folds Five and Stevie Wonder, before getting behind the drums for the electrifying Open Plan Panic Room. The thinking indie fan's favourite of the day, frontman 'Sexy' Paul Dickson charms the cameras and the ears via gems like 'Something To Keep' with the band's Foos meets QOTSA discipline – and the female contingent of the crowd duly swoon.
Discipline is cheerfully tossed off for demented chaos as The Wrong Uns bring their ramshackle, energetic racket to possibly the biggest cheers of the day. Irrepressible and possibly sectionable frontman Johnny Wrongun certainly lives for the moment, as Clash and Jam covers compete with a dysfunctional iPad for attention. The Wrong Uns are many things, but boring is not one of them, and at least Johnny left his famed blow up doll at home (this time).
New Tropics are worthy heirs to local Fatcat-signed heroes TRAAMS, and within their insular unit and rigidly focussed, be-afroed frontman Tom Herrington, they rip a twenty-minute new one in the Chiinn. At The Drive-In meet Lightning Bolt in a Milton Keynes shopping centre via their blisteringly intense, blink and you'll miss it set.
Dusk falls over the South Downs, and a besuited gentleman twirls an imaginary moustache, strikes a 50s muscle man pose and gives the audience a suave wink. Mikey Georgeson (otherwise known as The Vessel from David Devant and his Spirit Wife) is Lit rock personified, artfully balancing on a high wire taut between postmodern glam and chamber pop. Echoes of Ed Harcourt, James Cook and Rufus Wainwright are all heard in his Wildean chicanery, whether by guitar, electric piano or mandolin. A post ironic man about town, his wonderful 'Industry' charmed the festival…with only his bona fide classic 'My Heroine' tantalisingly left out of an intrigue-filled set.
Ex-cohort of Chrissie Hynde, the New York Dolls, Sid Vicious and charismatic bearers of brilliantly colourful tales, the Steve Dior Band bring the sleaze rock to town. Americana, swamp blues and classic punk fuse together through Dior's formidable band, the Ladbroke Grove via CBGB's legend himself resplendent in open red military jacket, lean buff tan and crazed blue-steel stare hypnotizing an enthralled crowd. Recent single 'Song For The Wicked' is followed by perfectly executed riff after ecstatic harmony, until the SDR drift into the high summer night, bottle of Turkish red under arm, swaggering towards who knows where.
After this roots epiphany, another kind of rootsiness approaches as local brass funk heroes Beatroot, with what looks like about fifty members onstage. Their perfectly oiled machine effortlessly bumps and grooves the night to its conclusion, rushing the nearly spent craniums of the audience with late night sax, trombone, sunglasses and hats. A warm and wonderful finale to a day-long festival of wildly oscillating colour. See you next year…
By Sean BW Parker